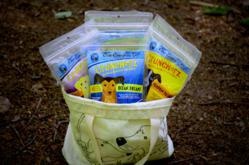 The treats have Organic Buckwheat Flour as their base ingredient. Buckwheat is NOT a form of wheat, it is a nutritious berry and neither a grain nor a gluten.
Wilton, CT (PRWEB) June 29, 2012
Clear Conscience Pet, LLC has announced the debut of a new line designed to meet the needs of stomach sensitive dogs, yet still with great tasting recipes sure to please picky pets.
The new line is called Cruncherz™ Gluten & Grain-Free Dog Bakery. It consists of four new baked treats formulated to meet the growing demand for gluten-free as well as grain-free nutrition options. Just as gluten-free diets for people have become one of the strongest emerging trends in human health, there is a growing awareness that some dogs are gluten intolerant. Cruncherz™ join the award winning Clear Conscience Pet family of sustainably sourced healthy pet treats, chews, and SuperGravy.
"We've had calls from families that have completely eliminated glutens from their households, and they are avoiding even the presence of gluten in any products in the home, including dog food and treats," said Clear Conscience Pet Co-Founder Anthony Bennie. "They are very pleased to now have four new gluten-free dog cookies to choose from. Entire families have gone gluten-free so even if the dog has no issues with gluten intolerance, gluten-free pet food and treats should be used in those homes. The treats have Organic Buckwheat Flour as their base ingredient. Buckwheat is not a form of wheat, it is a nutritious berry and neither a grain nor a gluten.
The line comes in four organic recipes: Peace Berry™ with organic blueberry and organic lavender, Ocean Dreams™ with organic kelp and organic chamomile, Ginger Yaps™ with organic ginger and organic parsley, and Pumpkin Patch™ with organic pumpkin and organic sage.
Complete product information is now available on the CCP website: Visit http://www.clearconsciencepet.com/cruncherz .
Clear Conscience Pet has also started a charitable foundation to support families of pets with cancer called The ISIS Foundation and is a candidate for a Mission: Small Business grant. The company has pledged to donate 10% of the net proceeds of any grants awarded under this program to families battling canine or feline cancer. To vote for Clear Conscience Pet and support the ISIS Foundation, go to http://www.missionsmallbusiness.com, register using facebook, and search for Clear Conscience Pet in Wilton, Connecticut.
# # #
About Clear Conscience Pet®, LLC
Clear Conscience Pet® is the first pet nutrition company founded with the mission of using humanely sourced meat ingredients from sustainable family farms to make exceptionally healthy treats, chews, and food enhancing gravies. The company's current products include the patent pending OSV™ treat and chew line, SuperGravy®, the first Holistic Instant Dry Gravy Mix and Nutrient Enhancer for pets, and Cruncherz™ Gluten & Grain-Free Bakery Treats. The company is based in Wilton, Connecticut and is family-owned by Founders Anthony Bennie and Amanda Malone Bennie. They currently market their pet food products to pet supply retailers, veterinarians, health food stores, and other pet specialty outlets.
Web address: http://www.clearconsciencepet.com
Facebook page: http://www.facebook.com/Clear.Conscience.Pet.LLC
Video interviews with Founder, Anthony Bennie: visit:
http://www.clearconsciencepet.com/ccp-tv