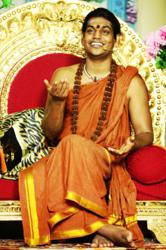 Thinking, speaking and acting in alignment with Truth is living enlightenment.
(PRWEB) June 29, 2012
Madurai Aadheenam: 27th June2012: His Holiness Paramahamsa Nithyananda gave a inspirational discourse to his world wide followers through 2 way video conferencing and Nithyananda TV by revealing the sacred secrets in the Bhagavad Gita Chapter 5, Sanyas Yoga, verse 11.
Pramahamsa Nithyananda said, "one first needs to become a man of intense action who is constantly performing. This creates a certain level of prana(life energy) awakened inside the human system. Constantly being responsible in thinking, talking and acting constitutes to the responsible performance of intense actions. It is important to concentrate all our energies in one direction of being responsible in performance of all our actions.
By the very nature of responsible performance of intense actions, one will be able to break all mental patterns and natural temperaments. The tamas or laziness is the basic ambience for human beings to grow patterns of cunningness to survive in non-performance. The laziness is easy to identify by looking at the very posture (the way one sits, walks, talks, listens and acts) of the beings who allow the laziness patterns to settle down as part of one's life style."
His Holiness Paramahamsa Nithyananda said, "As the head of the oldest and most ancient Hindu monastery, Madurai Aadheenam, I give my respects and credit for Zen monasteries for giving a powerful ambience to keep the science of enlightenment alive. The Zen monasteries never allow laziness to settle in them. Even the pontiffs and head of monasteries will not eat if they do not contribute that day to the monasteries. They do not allow the ambience of laziness to settle down or to be part of their lifestyle."
Paramahamsa Nithyananda also said that nirahaara samyama, is one of the most powerful method for the whole body to learn and fall in tune with the responsible performance of intense action. The body will start using up the stored fat and the innate capability and intelligence of our body-mind-consciousness to create energy from prana and ether is awakened. Nirahaara samyama takes us beyond the ordinary body bound consciousness.
Niraahaara samyama means helping human beings to explore and discover their possibility to be without any external input like food and water. Hundreds of followers across 40 countries are practicing their 4th day of nirahaara samyama.
Live Streaming of His Holiness Paramahamsa Nithyananda's talks are available on Nithyananda TV at http://nithyananda.tv/.
More information on Paramahamsa's Discourses on Bhagavad Gita can be found at: http://www.youtube.com/playlist?list=PLF7AAC46722C5B06D&feature=plcp
For discourse videos on revelations on Kundalini Awakening and the scientific research please visit: http://innerawakening.org/researchonkundaliniawakening
Contact:The Life Bliss Foundation
1- 909 - 625 -1400 / info(at)lifebliss(dot)org
ABOUT HIS HOLINESS PARAMAHAMSA NITHYANANDA:
Videos on Enlightenment Science:
http://www.youtube.com/watch?v=ty1DtDKt-08&feature=plcp
Inner Awakening videos:
http://www.youtube.com/playlist?list=PLD5E80C03E360B2F8&feature=plpp
Paramahamsa Nithyananda is not only one of the most watched Spiritual Guru on YouTube, he is ranked as one of the world's 100 most spiritually influential personalities. He has recently inherited the world's oldest and most ancient Hindu Spiritual Organization – the Madurai Aadheenam, by being coronated as the 293rd pontiff of Madurai Aadheenam.
Paramahamsa Nithyananda is a global leader in yoga, meditation, kundalini awakening enlightenment science. Clear, dynamic and modern in approach, Nithyananda's teachings have already transformed 15 million followers in 150 countries with the fastest growing spiritual community around the youngest incarnation.
Paramahamsa Nithyananda remains always grateful to the spiritual masters and the rich spiritual heritage of India which made it possible for him to learn and practice these timeless spiritual truths. Wishing to share his spiritual understanding with others and dedicate his life to the service of humanity, he entered into the public life and set up his spiritual organization, to reveal to the world, the science and benefits of our ancient mystical yogic tradition and disciplines.
Paramahamsa Nithyananda has made an indelible mark on the international spiritual scene, attracting educated and committed followers with his engaging way of demystifying the Vedic truths and re-interpreting them in the light of modern living. His down to earth approach to spirituality and his image of a tech-friendly guru, who illustrates the truths of Vedanta using a laptop, and uses modern analogies to instill Vedic values has found him admirers amongst the educated youngsters and their parents alike