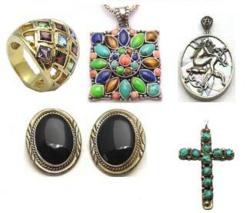 No matter who you are, you will find a piece that speaks to you!
- Robin Weber, President, BillyTheTree Jewelry
Belleair Bluffs, FL (PRWEB) June 29, 2012
A vintage jewelry section is now available at BillyTheTree. The company carries over 2,000 pieces of vintage and estate jewelry, most from the 1970s and 1980s. These unique items, primarily made of solid sterling silver, are obtained from walk-in customers, estate sales and auctions. The pieces vary from anklets, rings and pendants to bolo ties, key chains and belt buckles. With new items coming in every day, there is always something available for everyone.
"There is something extraordinary about jewelry from different eras," says Robin Weber, president of BillyTheTree. "Recognizing this fact, and in answer to strong demand from our customers, I am so incredibly thrilled to introduce the world to our vintage and estate jewelry collection. No matter who you are, you will find a piece that speaks to you!"
BillyTheTree's vintage jewelry collection is already one of the largest available online and all pieces are one of a kind; once it's gone, it's gone!
Along with vintage jewelry, BillyTheTree offers a wide variety of high quality modern jewelry, watches and sunglasses. It specializes in magnetic jewelry, sterling silver jewelry, jade jewelry and high performance sunglasses. And, thanks to its huge selection, BillyTheTree features quality jewelry for all budgets, so shoppers don't have to spend a fortune on a beautiful piece of jewelry.
BillyTheTree provides free worldwide shipping and a 30-day satisfaction guarantee on all jewelry, watches and sunglasses. This has resulted in an international following with customers all over the globe, including the United Kingdom, Singapore, and beyond.
The customer service team is dedicated to making every shopping experience with BillyTheTree fun and easy. The satisfaction of each customer is guaranteed.
About BillyTheTree Jewelry
Robin Weber founded BillyTheTree, LLC in 2004 while he was still a senior in high school. In the following years, the company began to grow very quickly, with many thousands of customers lauding the company's easy-to-use website and consumer-friendly policies. Since then, BillyTheTree has experienced tremendous growth, and is fast becoming the choice in quality jewelry for many tens of thousands.