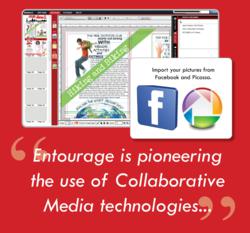 "Social media has helped inspire the yearbook industry, especially our customers."
- Elias Jo
(PRWEB) June 29, 2012
Social media has taken the world by storm, and at this point, barely even needs an introduction. It's presence is felt everywhere. It has revolutionized the rules of marketing in a period of under 10 years. It's considered the new norm for communication between friends. It has become a new lifestyle - ingrained in younger generations. But for an age old industry like school yearbooks, is it really the new media for how students and schools will record their memories? Entourage Yearbooks is leading a new drive in what is being called Collaborative Media, a new form of social media that is transforming the yearbook industry.
Collaborative Media is a new type of social technology, similar to what users are used to on sites like Facebook and MySpace, but it includes better control, more advanced crowd sourcing capabilities, and is specific to collaboratively developing organized content with an end goal in mind.
"Entourage is pioneering the use of Collaborative Media technologies with our online yearbook design capabilities to provide the next generation experience in creating yearbook publications," said Elias Jo, President of Entourage Yearbooks. "By combining the ability to design a yearbook online, with collaborative technologies like chat, online editing, and work sharing, we believe we are creating the future platform for the next generation of yearbooks."
Many yearbook companies have attempted to integrate aspects of social networking sites into their current yearbook software to appeal to current high school students. But the organic nature of social networking alone doesn't lend itself well to yearbooks. Entourage Yearbooks believes the future of yearbooks can be found in collaborative media.
"Social media has helped inspire the yearbook industry, especially our customers," said Jo. "The most successful yearbooks are a combination of organically sourced content and carefully crafted thematic design. By integrating collaborative technologies like social networks, and content communities, along with structure system, yearbooks can be created faster and easier than ever before."
The process of creating a yearbook is collaborative by nature. "Collaboration is important because it clearly leverages the resources and creativity of a larger group of people," said Jo. Entourage Yearbooks believes that by building tools that focus on bringing more collaborative resources to their customers, the result will be stronger, more creative, better produced yearbooks.
Collaborative Media is perfect for yearbook projects. It's important for all students to be able to contribute to the school yearbook, but it works best for there to remain a smaller group, or yearbook staff, who filter and organize the material into the final product. Collaborative Media is safer for schools as well because yearbook advisors and administrators still have control over the final content of the pages.
To learn more about Entourage Yearbooks and their yearbook programs visit http://www.entourageyearbooks.com.