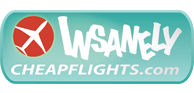 (PRWEB) June 30, 2012
InsanelyCheapFlights.com announced today that it is discounting thousands of flights from LaGuardia and John F. Kennedy International airports to destinations in the U.S. and world-wide. The site is offering a promo code that applies to flights from New York and is valid for most flight bookings.
Bachelor and bachelorette party planners should note that the sale includes flights from New York to Las Vegas. Travelers looking to try their luck will have a little more money to spend when they reach their destination, while those more interested in the party scene will have a few more bucks to spend on the bar tab.
For travelers looking to work on their tan this summer, flights from New York to Miami are also eligible for the discount. Grab that perfect bathing suit and head over to South Beach, or relax by the pool at the famous Fontainebleau hotel. Since the sale isn't limited to summer travel, travelers planning ahead can spend their winter in Florida for less.
For flyers with international travel plans, the discount also applies to flights from New York to London. Those looking to fly across the Atlantic in style can save money on first class tickets, or use the discount on cheaper economy tickets and have more left over to see the sites London offers. From Big Ben to Piccadilly Circus, less money spent on getting to London means more money to enjoy the city.
Since 2009, InsanelyCheapFlights.com's focus has been helping its users find the cheapest flights available online. While the site has recently added hotel room and car rental bookings, it maintains its core goals. "We're still all about cheap flights, and this promotion continues that tradition" says Steve Oliverez, founder of InsanelyCheapFlights.com. The discount is good on flight bookings and applies to service fees.
"We love New York," says Oliverez. "Sometimes, though, it's good to get away for week. A lot of flight sales are only good on specific distensions or specific dates, but we wanted to give New York travelers more choice."