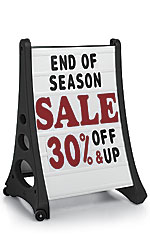 The best part about the new items we've added to our inventory is that retailers can use most of them all year round.
St. Louis, MO (PRWEB) June 30, 2012
As seasons change, trends fade, and retailers redesign their store interiors, new store supplies and store fixtures become necessary. Store Supply Warehouse, a St. Louis based retail supply company, recently enhanced its inventory with the addition of 146 new products. These products range from everyday use items like bags, ribbon, and other retail packaging to bigger ticket items, like sale signs and clothing forms.
"Retailers like variety in their store décor as much as consumers like variety in their purchases," says Matt Wohlstadter, President of Store Supply Warehouse. "At Store Supply Warehouse, we try our best to add new products and make modifications to popular products, so that retailers will keep coming back for the latest styles and trends to fit their store's atmosphere."
Among the wide selection of new products added to Store Supply Warehouse's inventory, retailers will find seasonal shopping bags to prepare for the winter seasons, new mannequins and clothing forms to highlight back to school fashions, and new sidewalk signs to notify customers of closeout and seasonal sales. Additionally, they have also added a wide variety of hardware and everyday use items like ribbon shredders, counterfeit detector pens, and hanger clips. All of Store Supply Warehouse's new products are backed by their 110% Low Price Guarantee.
"The best part about the new items we've added to our inventory is that retailers can use most of them all year round. With items such as hardware, clothing forms, and signs, store owners can repurpose our products as seasons change, inventory turns over and new products come in. Moreover, we carry supplemental products that store owners can use with the new products, to create and enhance the displays to correspond to the ambiance of their store," adds Wohlstadter.
Every product is housed in all five of the company's warehouses throughout the United States. All orders placed before 3 p.m. will be shipped using the same day, arriving to 88 percent of the U.S. population by the next day. Additionally, customers can call their customer service line to speak to a live customer service representative.
Store Supply Warehouse will feature all of these products and more in their new catalog set for distribution on July 2, 2012. To view the new products or to order the catalog, please visit the website: http://www.storesupply.com/newproducts.aspx
About Store Supply Warehouse
Store Supply Warehouse was founded in 1994 in St. Louis, and has since seen immense growth, selling retail fixtures and retail store supplies, including display cases, racks and shelving, shopping bags, hangers, pricing and tagging guns and mannequins. The distribution chain takes pride in its quick transaction process, efficient delivery, and quality customer service. Products are available for purchase through Store Supply's catalog, which is updated and distributed four times a year, or online at http://www.storesupply.com. Same-day shipping is guaranteed on all orders placed before 3 p.m. The company's main office is located at 9801 Page Avenue, St. Louis, Missouri, 63132. Contact Store Supply directly at 800-823-8887 or by email at contactus(at)StoreSupply(dot)com.
###