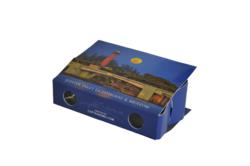 We are seeing a lot of strong interest in the retail market
Jupiter, FL (PRWEB) June 30, 2012
FanOculars, LLC has expanded the distribution market for the popular FanOculars product and is now seeing strong growth in a number of retail outlets. Recently, the Jupiter, FL Company signed a sales agreement with one of the longest running Off Broadway shows in New York City, The Accidental Pervert. Prior to that, The Jupiter Inlet Lighthouse and Museum agreed to place an order for the FanOculars and offer the unique product as a souvenir in the museum gift shop. The company has three other sales orders from retail organizations.
The retail market represents a new distribution category as the company has previously focused on the promotional sports and entertainment market, where FanOculars have worked with many noted sports brands such as the NY Jets and ESPN.
"It's exciting to be the only show in town to be offering such a unique product. Our fans have been excited and they are going over real well", says Andrew Goffman, creator of the hit Off Broadway show, the Accidental Pervert. Sales are also very strong at the Jupiter Inlet Lighthouse according to Manager Chris McKnight. "I think we'll sell them," McKnight said, adding that they could become a regular item in the shop.
FanOculars are a new and exciting consumer product. They are portable, foldaway binoculars with custom images of sports players, team logos or other unique branded images printed on them. They can be folded flat and stored in a shirt pocket or purse for easy transport. They easily pop open for use as binoculars. In addition to the retail operations, FanOculars are sold to sports teams and leagues and used as a branding vehicle for teams, players and sponsors.
Company President, David Ballou sees many opportunities in the retail market. "In addition to the current accounts, we are also talking with the National Parks and a number of National Museums about the FanOculars. We are seeing a lot of strong interest", says David. "While the sports promotional market is still our focus, we will continue to seek retail partners that can further expand our brand and provide benefits to our retail partners".
About FanOculars, LLC
FanOculars, LLC is the production, distribution and marketing company for the FanOculars brand. The company currently has a number of prominent licenses and continues to seek additional strategic partners to enhance the brand and advance the business objectives. FanOculars, LLC is privately held company located in Jupiter, Florida.