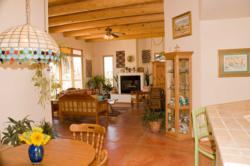 They will also invite posts from those that already live in Advanced Solar Homes to see how close they are to net Zero Energy
Santa Fe, New Mexico (PRWEB) June 30, 2012
Alan Hoffman, leader of Natural Homes marketing group in Santa Fe, New Mexico has designed, built and marketed Solar Homes for more than 30 years and is putting a new face on green building. Alan Greenhome is a place on Facebook where the public can come to keep up with the construction of cutting edge, affordable Solar Homes including the holly grail, the "Zero Energy Home".
Dennis Niedermier of Renaissance Builders provides the building science expertise making it possible to deliver efficient, healthy and sustainable homes at the same price as a conventional custom home in the Santa Fe market. Alan stated "these homes offer super insulated envelope, efficient lighting and appliances and solar panels on the roof".
Alan Greenhome will be posting a series of photos and info starting in July, showing each step in the construction of an Advanced Solar Home. Starting with excavation and finishing with the start up of the Whole House Ventilator, this series will spell out the simple steps in creating an energy efficient, healthy and secure home at a price that a working family can afford. They will also invite posts from those that already live in Advanced Solar Homes to see how close they are to net Zero Energy. Check in to Alan Greenhome on Facebook to hear about tours of finished homes and homes under construction and learn how these homes are for everyone, saving money, living comfortably and giving the Earth a break.
For more information Call Alan at 505 316 0449 and Visit NewVillage.com.