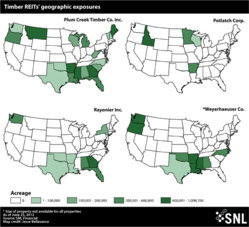 (PRWEB) June 29, 2012
With building sentiment of a U.S. housing recovery and expectations for continued demand from China, Timber REITs could be in for an upswing.
A number of data points in recent weeks have pointed to a bourgeoning housing recovery in the U.S. New single-family housing starts in May increased 3.2% month over month and 26.2% year over year, according to data released by the U.S. Census Bureau and the U.S. Department of Housing and Urban Development. Meanwhile, new single-family home sales in the U.S. jumped 7.6% month over month in May to a seasonally adjusted annual rate of 369,000.
The more positive data was largely supported by recent homebuilder earnings reports. Lennar Corp. on June 27 posted a 40% year-over-year rise in new orders in its fiscal second-quarter results, along with a 61% jump in its backlog, at 3,970 units worth $1.06 billion.
"Evidence from the field suggests that the 'for sale' housing market has, in fact, bottomed and that we have commenced a slow and steady recovery process," Lennar CEO Stuart Miller said.
Similarly, KB Home on June 29 posted a 22% year-over year rise in its backlog as its CEO, Jeffrey Mezger, highlighted a "mixed environment of an improving, but uneven recovery in housing markets."
While homebuilders like Lennar and KB Home are obvious beneficiaries of such improvements in the U.S. housing market, timber REITs — as the provider of one of the basic components of home construction — also stand to gain.
And yet, the timber REIT index — comprised of the four public U.S. timber REITs — has lagged so far this year. The index shows a total return of 5.46% through June 25, which is 4.59 percentage points lower than SNL U.S. REIT Equity index.
Click here to read the full SNL Real Estate report: http://www.snl.com/InteractiveX/Article.aspx?cdid=A-15199509-13348