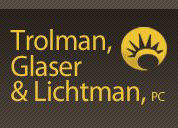 (PRWEB) June 29, 2012
The New York State Trial Lawyers Association (NYSTLA) has announced that the 45th president of the organization will assume office on July 1.
Personal injury attorney Michael Jaffe of Pazer, Epstein & Jaffe in Manhattan said in an interview with the New York Law Journal that he plans to continue the association's goal of ensuring that injured New Yorkers have access to the state's justice system. As part of this goal, he hopes to get more members involved in the association and further promote its mission to the public.
Founded in 1953 by 20 trial lawyers who would often gather in one another's homes to discuss legal issues, the New York State Trial Lawyers Association has since grown to more than 4,600 members and seeks to provide a "voice for the voiceless." The group's mission is "[t]o promote a safer and healthier society, to assure access to the civil justice system by those who are wrongfully injured and to advance representation of the public by ethical, well-trained lawyers."
For the past 59 years, the association has worked to preserve and enhance the state's justice system — often meeting in Albany to address legislative initiatives that threaten the rights of injured New Yorkers.
As a past president of the NYSTLA, Jeffrey Lichtman, managing partner of Trolman, Glaser & Lichtman, remains active in the politics of the profession and continues to serve as a board member with the association. In welcoming Jaffe to the presidency, Mr. Lichtman noted that "Michael is one of the youngest trial lawyers to become president of the organization.. I expect that he will be fully dedicated to the job of fighting threats to the New York civil justice system and ensuring all injured victims receive their day in court."
For more information about the New York State Trial Lawyers Association, visit http://www.nystla.org.
About Trolman, Glaser & Lichtman:
The personal injury lawyers at Trolman, Glaser & Lichtman, along with their team of experienced
support staff, have represented thousands of injured New Yorkers the past 40 years and obtained more than $1 billion in settlements and verdicts for their clients. The firm handles serious personal injury cases throughout New York state, including cases involving car accidents, construction accidents, slip-and-falls, nursing home abuse and medical malpractice such as birth injuries and surgical errors.
To contact partner Jeff Lichtman or any of the personal injury attorneys at Trolman, Glaser & Lichtman, visit the firm's website at http://www.tgllaw.com or call 888-253-1221.