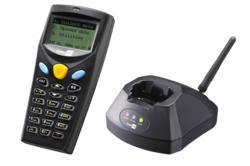 Plano, TX (PRWEB) June 29, 2012
CipherLab, a leading innovator in Automatic Identification and Data Capture (AIDC) has delivered a new 3G cradle to the 8000 series mobile computer. Light-weighted in pocket size, the 8000 series mobile computer from CipherLab has been widely used for applications in retail, healthcare, and logistic industries. With versatile data transmission options ranging from batch, Acoustic Coupler, Bluetooth, Wi-Fi to GPRS, the 8000 series empowers users to manage their tasks more efficiently and work smarter.
With the good reputation and great popularity, CipherLab now further upgrade the WWAN communication of the 8000 series mobile computer with the new 3G cradle.
The 8001 3G cradle is the required accessory to connect to current 3G Cellular Networks, providing download speeds of up to 14.4 Mbps (HSPA+) and upload speeds of up to 5.76 Mbps (HSPA+). Supporting HSPA+/UMTS 850/900/AWS/1900/2100 MHz and EGPRS 850/900/18000/1900.
Versatile 8000 series mobile computers improve business-critical operations by combining scanning and data entry in one compact lightweight handheld with a user-friendly interface and easy-to-read backlit LCD screen. Highly efficient circuit design enables up to 100 continuous hours on lithium-ion rechargeable batteries. A backup rechargeable lithium battery prevents data loss if you can't change or charge the battery immediately. With a choice of linear image or laser reader, the 8000 series meets most barcode scanning needs. The dedicated CipherLab operation system supports a wide variety of C and BASIC solutions from batch to wireless connectivity. CipherLab's Power Suite software helps you create the perfect application for your situation. FORGE Application Generator, and BLAZE C and BASIC Compilers make development easy.
For more details and specifications regarding CipherLab 8000 series mobile computer and 8001 3G cradle, send an email to NASales(at)cipherlab(dot)com or contact our office at 888-300-9779 by phone.
About CipherLab
CipherLab (http://www.cipherlab.com) is a global leader in the design, manufacture, and marketing of Automatic Identification and Data Capture/Collection products and systems. The company's mobile computers and scanners are integrated into the networks of some of the world's best known logistics, retail, distribution, government installations and healthcare companies, helping them run more efficiently and effectively onsite and on the road. Operating worldwide, CipherLab is headquartered in Taipei, Taiwan with offices in China, Germany and the USA, and is publicly traded on the Taiwan stock exchange (Taiwan OTC: 6160).