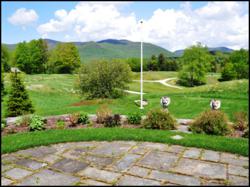 The Fourth of July is a perfect time to test drive your dream of buying a home and living in Vermont
Dorset, VT (PRWEB) June 29, 2012
"The Fourth of July is a perfect time to test drive your dream of buying a home and living in Vermont," says Laura Beckwith, principal broker at Josiah Allen Real Estate in Dorset, VT. The real estate agency is holding multiple open houses in Dorset, Manchester and Weston, VT on Wednesday, July 4th, and on Saturday, July 7th. Each property offers something unique.
Begin with a tour at Battenkill Meadows—but beware, it's hard to leave! Here visitors will discover a remarkable sustainable community combining the latest in environmentally responsible design with historically inspired architecture in the heart of some of the most beautiful scenery in New England. Modeled after a turn-of-the-20th century village lane, homes are clustered together, preserving open land and views. The houses at Battenkill Meadows have been crafted to a new standard of energy efficiency and incorporate geothermal heating and cooling. Jeff Manney, of the non-profit group Efficiency Vermont says, "The new Battenkill Meadows homes in Manchester represent the very finest in thermal envelope efficiency and more. I am very impressed with these houses..."
On Wednesday, July 4, you will be able to tour 3 of the newly constructed homes at Battenkill Meadows with prices ranging from $1,150,000 (mls 4151165) - $1,500,000 (mls 4026063).
In picturesque Dorset, VT where the town green and the entire core of the village are preserved by the National Historic Trust, it's easy to stop in and imagine what life would be like with the 13th green of the Dorset Field Club as your backyard. (The DFC is also eminently historic—the oldest continually operating golf course in the country.) A charming contemporary on 2 beautifully tended acres (mls 4159914) awaits visitors on Saturday from 2-5 pm. Those who stop in will appreciate the exterior stone walls and perennial beds and the interior fireplaced living room with panoramic views, and the first floor master bedroom suite with doors to the garden. This sought after Dorset West Rd address is listed at $995,000.
A short drive to the village of Weston, will bring house-hunters to the town that is home to the famous Vermont Country Store and the much lauded Weston Playhouse regional theater. Set on 10 acres adjacent to Green Mountain Forest trails, a contemporary farmhouse offers porches, oak floors, and a master suite with a fireplace (mls 4094750), as well as 3 additional bedrooms and lots of room for friends and family. They will all gather around stone fire pit on the lower terrace, while the more daring will choose to enjoy the Green Mountain landscape from the outdoor shower. This Vermont country classic will be open to the public on Saturday, July 7 from 1-4pm.
Josiah Allen Real Estate is Southern Vermont's premier real estate company. Visit their website at josiahallen.com to learn more about these open houses and the other properties for sale in the region. It's the place to find your Vermont.