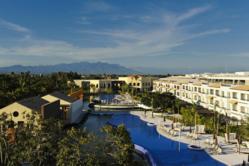 Lance Randall author of "Synagogue Savant" commented "I look forward to reading the trip report and have considered expanding in to the travel related writing."
Palm Harbor, Florida (PRWEB) June 30, 2012
Breaking News: The Winner of Fantasy Vallarta Next Great Travel Writer has been announced by Go Classy Tours, Inc.
In May, Go Classy Tours announced an exciting opportunity for aspiring travel writers. The creative couple chosen by Go Classy Tours will spend eight days and seven nights at the new Fantasy Vallarta Resort and Spa with all expenses paid, except air fare. The selected couple will experience an all-inclusive, couples only, clothing optional, world-class resort with spacious suites, great food, premium beverages and top flight amenities. Upon their return home, the couple will write a review for publication on Go Classy Tours' media.
Over one hundred entries were received. The selection process went like this: The entries that were not disqualified and followed the rules were sorted according to the date they were received with most recent first. Using the random number generator at Random Org, a number was drawn.
The couple selected wrote the following paragraph:
We have extensive experience traveling worldwide for over 15 years with hotel stays averaging 125 nights each year. We feel that we are exceptionally well qualified to evaluate a resort for other travelers. We are experienced writers, published author, and developers of two web sites dedicated to an all-inclusive, clothing optional resort. We have also traveled to and written trip reports on Hedonism II and III (26 trips total), Desire (Cancun) and the N Resort.
Each couple that entered our search for a travel writer will receive a $50 gift certificate valid for future travel to any of the all-inclusive resorts GCT handles. That makes every entry a winner!
Go Classy Tours proudly represents the new Fantasy Vallarta Resort and Spa. This Inclusive yet Exclusive seductive destination is for male/female couples who seek passion, liberation, eroticism and sensual activities tailored for the most discerning adults. Featuring all-inclusive packages, gourmet dining, a sumptuous day spa and spacious suites, Fantasy Vallarta Resort and Spa is a clothing-optional playground in lush, tropical Mexico.
Fantasy Vallarta Resort and Spa is an all-suites hotel with accommodations designed for the lifestyle. Space is the ultimate luxury and Fantasy Resort pampers their guests with one bedroom suites starting at 646 square feet all the way up to an amazing, 2,400 square foot, three bedroom, two-story penthouse with private roof-top Jacuzzi.
For information and rates for Fantasy Vallarta Resort and Spa, call Go Classy Tours toll free 888 825 2779.
Go Classy Tours, Inc. is a nationally known wholesaler with offices in Palm Harbor, Florida and clients around the world, the company has assisted tens of thousands of satisfied travelers with their vacation plans for over thirty years. Resorts for families, singles, and couples are available in a wide choice of islands and themes. Contact Go Classy Tours at toll free 888 825 2779.
Florida Registration #10015
California Registration #1015540-40
Go Classy Tours, Inc
Toll Free 888 825 2779