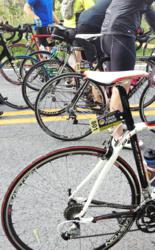 (PRWEB) June 29, 2012
CardPrinting.us believes that when it comes to a bicycle race, the bike number has pride of place and should stay in place at all times.
With this in mind, the company launches a simple yet elegant solution to display a race number in an easy, efficient, and aerodynamic way. For over three years, CardPrinting.us has been a leading supplier of bike tags for participants of bike-a-thons, triathlons, and other bicycle-centric races, earning high customer satisfaction in the process. This is largely due to the company's high quality card products and fast turnaround.
Close observation of countless bike races has made the people behind the company aware of all the inconveniences of a regular bike tag, including fading, getting stained by sweat, sports drinks, and the occasional rain, and other factors that can render it useless and ineffective. In stark contrast, CardPrinting.us's bike tag is reliable, durable, and composed of thick heavy 45 mil plastic that is made to last a lifetime and to withstand most weather conditions. It is also UV-protected and will not fade despite constant exposure to sun and rain, as well as other elements.
The CardPrinting.us bike tag is designed to make any bike racer look and feel like a professional, not an amateur participant in a charity fundraiser with a limp number flag. It is intended for easy, no-fuss attachment by any biker. As a result, the bike tag stays in place even during the most rigorous race.
CardPrinting.us bike tags are personalized on both sides in large letters and can be individualized per tag with preferred numbers and characters. In-house designers can help clients pick out up to four colors for each side. Bulk orders can be made from anywhere between a hundred to 30,000 pieces, with a quick turnaround of as short as one week. The company ships internationally and offers a delivery guarantee.
Further information on the CardPrinting.us products and services can be had by emailing info(at)cardprinting(dot)us, or calling toll-free at +1-866-344-2300 for USA and Canada, and +1-845-426-2300 for international calls. Learn more about the many high-quality plastic and paper card products such as custom ID badges, key tags, fundraising cards, etc. at http://www.cardprinting.us/.