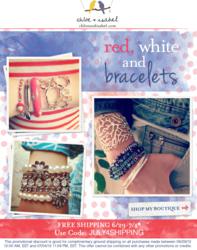 Be yourself, everyone else is taken.
Seattle, WA (PRWEB) June 30, 2012
Anne Hess, Chloe + Isabel merchandiser, announces Free Shipping from June 29-July 4 in honor of Fourth of July. In addition to the free shipping, the first person to order will receive a patina finished metal cuff bracelet with an open work fauna motif. To qualify for free shipping offer orders must use the Promo code: JULY4SHIPPING
Whether you are at the beach or in the backyard, Chloe + Isabel jewelry gets attention. The spring collection brings together vintage-inspired castings in the Garden Party collection, pops of coral brighten the "Coral-ly Yours collection, while a specialized patina finish is used in some of the Turquoise Nation pieces. Semi-precious beads, organic metals and crystal accents also adorn necklaces and bracelets for perfect for casual summer wear.
Anne Hess comments, "Whenever I wear my Chloe + Isabel jewelry someone compliments me on it and wants to know about where to find it. Each piece is artfully designed, uses quality materials and is unique."
Chloe and Isabel is a new and innovative jewelry brand that has been named by Business Insider as one of the top 20 start-ups for 2011 and a destination for fashion-loving, creative and confident women. Chloe + Isabel is designed to connect women through a modern-day social-shopping experience. The unique and stylish jewelry has recently been featured in US Weekly, Lucky, InStyle and Glamour Magazines.