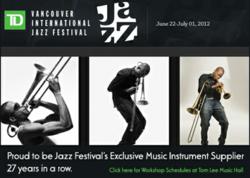 Vancouver, BC (PRWEB) June 29, 2012
Tom Lee Music Vancouver is proud to be hosting a very special TD Vancouver International Jazz Festival Big Band Open Rehearsal Concert on Saturday June 30th at 12:30 PM featuring some of BC's best and brightest young high school jazz students in the TD High School Jazz Intensive with Nicole Mitchell.
The TD High School Jazz Intensive is the culmination of an intensive nine-day artistic residency for Vancouver High School Students selected through a rigorous audition process. This Big Band presents some of tomorrow's great rising stars. Led by conductor Nicole Mitchell, the residency held at Tom Lee Music Vancouver's Music Hall, is about whom All About Jazz raves "there isn't a more talented flautist...composer or large-ensemble band leader in improvised music today".
As the host of the TD High School Jazz Intensive program, Tom Lee Music invites all jazz enthusiasts to show their support for our young jazz musicians by attending the free concert tomorrow at 929 Granville Street at 12:30 PM and Tom Lee Music & TD Vancouver International Jazz Festival.
Tom Lee Music is proud once again to partner with the TD Vancouver International Jazz Festival as the exclusive musical instrument supplier. For the past 27 years Tom Lee Music has provided pianos, instruments and backline for the festival. Additionally Tom Lee Music supports our community as the official supplier to the Vancouver Folk Festival, MusicFest Vancouver and many other key festivals that help make our city great.
About Tom Lee Music Canada
Tom Lee Music has been bringing music making to the Greater Vancouver and Vancouver Island communities since 1969. With 9 retail locations in Lower Mainland Vancouver, Tom Lee Music is now one of the largest full-line musical instrument retailers in North America. Known for supporting the local music community, Tom Lee Music has received numerous awards in recognition of our dedication to music excellence and support of many community organizations. Tom Lee Music is the exclusive Steinway dealer in B.C. since 1978. For more information, visit http://www.tomleemusic.ca.