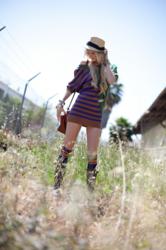 The greatest healing therapy is friendship and love.
Los Angeles, California (PRWEB) June 30, 2012
Fans of Flying Tomato clothing should head straight for the brand's online boutique, where they will find a massive July 4th sale with up to 36% off some of its hottest vintage inspired bohemian items of the season.
Flying Tomato's July 4th sale includes everything from bohemian maxi dresses to bohemian palazzo pants and makes for the ideal opportunity to save dollars on the overall price of some of the brand's most popular items. The sale will only run for a limited time though (ends July 4th), so those that are interested in bagging a few bargains should act now before stocks run out.
In total, there are just less than 350 items of women's clothing included in the sale, available in sizes small to large. There are many items available for less than $50 and a lot of the clothes are available in a range of colors, so customers will still be able to pick the best style for them.
"All of our favorite items are included in this July 4th sale," said Luz Gutierrez of Flying Tomato. "The Red, White & Blue sales are always best time to pick up some real bargains, and at Flying Tomato we want to make sure that our customers get the chance to do that."
To buy from Flying Tomato's sale, check out their new lookbook, or to check out the new collections, visit the official website at http://www.FlyingTomato.com now.
About Flying Tomato - Flying Tomato is a vintage inspired bohemian clothing line founded by Jay & Debbie in 2004. It all began as Salt & Pepper Clothing, Inc. in an 1,100 square ft shop which was located at the heart of the fashion district in Los Angeles. Since then, we have expanded and our facilities now include 2 showrooms in the LA Fashion District and a 67,000 square ft warehouse which is located in Vernon, CA.
We design, manufacture and distribute classic & feminine collection not to follow trends, but to set our own by showcasing an entirely new look with vintage inspired feel that our customers have grown to love.
As a fast-growing young contemporary brand, Flying Tomato enjoys a dynamic and fast-paced working environment. We have such fun, energetic and dedicated group of fashion oriented individuals that work together as a team to create unique & edgy styles for today's fashion leaders.
You can find our line in over 2,000 boutiques & department stores worldwide and on our website, http://www.flyingtomato.com!
For further information contact:
Email: blog(at)flyingtomato.com