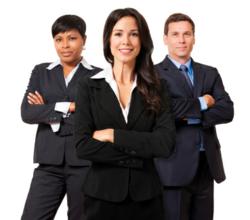 By simply adding blouses and accessories from discount stores, one suit can be worn a million different ways throughout the entire year.
Houston, TX (PRWEB) June 30, 2012
While success as an undergrad requires a delicate balance of work, study and of course, a little fun, maneuvering up the fiercely competitive corporate ladder can be a bit more confounding: A dedicated worker may earn high marks with his employer, but may also be overlooked for that big promotion in favor of an equally qualified employee whose office attire fit the part. Making a statement of ambition and professionalism is an effort of sight and sound, and as Rodeo Drive Resale (RDR) co-founder and women's style expert Raya Jaffer explains, communication may rule the nation, but a professional style must goes the extra mile.
"First, it is important to establish a difference between your wardrobe for an interview and one for work," Raya says, warning recent grads to dress their best no matter what job they are seeking. "Perhaps you will be applying for a position in a more casual environment. This does not give you the okay to be dressed in casual attire for the interview unless you are specifically asked to."
Once you score that real world job, Raya says that any woman hoping to build the ultimate professional wardrobe should begin with the following key pieces: A cardigan, flats, a white button-up shirt, white camisole, a pair of pumps, and most importantly, a basic black suit.
"Your basic suit pieces should be what most of your wardrobe budget is designated for," she told Consumer Media News. According to Raya, mixing and matching your clothing and accessories is a great way to breathe life into a basic suit over and over again. "By simply adding blouses and accessories from discount stores, one suit can be worn a million different ways throughout the entire year."
She went on to advise the newly hired to learn the fashion climate of their specific place of employment before taking any wardrobe risks. Every company has its own set of rules concerning acceptable office attire, so if there is ever any doubt, take notice of how the consistently well-dressed person in the office puts themself together and follow suit – but not too closely, no one likes a copycat.
Recent graduates that have their basic pieces and would like to advance their look while saving a few bucks are in luck, as stores such as Banana Republic, Loft and Express offer shoppers quality merchandise at a price that is easy on the wallet. In addition to these mid-range retailers, Raya notes consignment stores are also a great place to find deals on suits, slacks, shoes, and accessories. Designer fashion resellers such as RDR, offer authentic, well inspected designer items at a fraction of what it would cost brand new.
"Shopping 'pre-owned' is not only great for your budget, but for the environment as well. You can really score some great deals if you know what you are looking for," she said.
For those seeking more information on consignment, Raya suggests visiting RDR's online consignment page, which offers more info on buying and selling your luxury designer items.
ABOUT RODEO DRIVE RESALE
With over a decade of experience, Rodeo Drive Resale specializes in buying, selling, and consignment of authentic couture fashions. Buy & sell your favorite luxury designers such as Louis Vuitton, Chanel, Prada, Gucci, St. John Knits, David Yurman, Christian Louboutin, Tiffany & Co. and more. All items are Guaranteed 100% Authentic. Visit RDR online at http://www.shoprdr.com or call toll free at (888)697-3725.