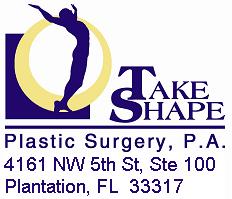 This exciting and potentially life altering surgery will now be offered by the Plastic Surgeons at Take Shape Plastic Surgery, in Fort Lauderdale, Florida.
Fort Lauderdale, FL (PRWEB) June 30, 2012
Migraine headaches are extremely prevalent, and can be debilitating for its sufferers (Roughly 37,000,000 sufferers in the U.S). Fortunately, the medical field continues to make strides in its quest to ameliorate and ultimately overcome this complex disease. The causes of Migraines are multi-factorial, and our understanding continues to evolve. As we further our knowledge, new and exciting treatment modalities evolve as well.
As recently as ten years ago, the predominant thought was that migraines are the result of temporary arterial vasodilatation (swelling of the blood vessels) in the brain. To this end, medications were developed to treat this, by countering the swelling. Medications such as Imitrex, and Maxalt, to name a few, function through constricting the blood vessels, and have a good result in a number of Migraine sufferers. Unfortunately, these medications are expensive, and have a host of side effects.
Roughly ten years ago, a prominent US plastic surgeon, Dr. Bahman Guyuron, discovered that many of his patients that had received Botox to the area between the eyebrows (Glabella), were experiencing an improvement in Migraine symptoms and frequency. On occasion, these patients were even found to have experienced complete resolution. What he postulated was that paralyzing the muscles in this area was decreasing irritation to sensory nerves that ran through those particular muscles. This theory was researched extensively, and found in peer-reviewed literature to have merit.
Additionally, he, and others, noted that there were three other "Trigger Points" that many Migraine sufferers could pinpoint as a place where their headaches originated or emanated from. These sites were: the back of the neck, the temple area, or the nasal area. These are all areas containing sensory nerves, or nerve endings that, if irritated, could potentially trigger the cascade leading to a Migraine headache. The effect of Botox on the Temporal, and Occiptal (back of the neck) areas was then tested, and found to have similarly good results to the first trigger point described.
After seeing the positive results shown by pioneering Plastic Surgeons, Neurologists adopted the use of Botox as a preferred method for the treatment for Migraine Headaches. Guyuron and others then developed Surgical Procedures that could effectively mimic the actions of Botox at these sites. The surgical procedures had the added bonus of being potentially permanent treatment modalities, thus decreasing or eliminating the need for Botox, or other pharmaceutical Migraine treatments.
It has been found, that the patients that benefit most from surgical intervention typically have refractory headaches that can be pin-pointed by the patient to one or more sites of origin. By using Botox as a diagnostic tool, potential surgical sites can be identified.
The peer-reviewed medical literature has shown great success with the surgical treatment of Migraines. "The incidence of a positive response (at least 50 percent reduction) is currently over 90 percent, with over 70 percent showing complete elimination." (Plastic and Reconstructive Surgery)
This exciting and potentially life altering surgery will now be offered by the Plastic Surgeons at Take Shape Plastic Surgery, in Fort Lauderdale, Florida. Patients can call (954) 585-3800 to schedule an appointment for a complete and thorough evaluation.