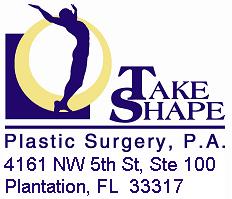 We want patients to be comfortable and happy with their weight before we perform procedures, and Dr. G's programs have proven to be the most effective ways for patients to reach their goal weight", says Dr. Sassani
Fort Lauderdale, FL (PRWEB) June 30, 2012
Take Shape Plastic Surgery P.A. is a highly esteemed medical practice and surgery center that caters to patients in need of cosmetic or reconstructive procedures. Take Shape Plastic Surgery P.A., located in Plantation, FL, has recently teamed up with Valery Adkins, the owner of Dr. G's Weight Loss and Wellness. Their efficient and safe weight loss program allows patients to lose weight before procedures, ensuring optimal results.
"We want patients to be comfortable and happy with their weight before we perform procedures and Dr. G's programs have proven to be the most effective way for patients to reach their goal weight before surgery," said Dr. Sassani, the medical director of Take Shape Plastic Surgery P.A. "After patients achieve this goal weight, they often feel motivated to continue in their path to achieve their desired appearance."
Dr. Sassani, the medical director at Take Shape, is Board Certified by the American Board of Plastic Surgery. Dr. Sassani's particular areas of interest and expertise are cosmetic surgery of the face, plastic surgery of the breast (enlargement, reduction and reconstruction), body contour surgery (liposuction and tummy tucks) and laser skin resurfacing. His reconstructive interests and expertise include reconstruction after facial trauma, reconstruction after cancer surgery, burn reconstruction, and hand surgery. Along with Dr. Sassani's surgical expertise, Take Shape Plastic Surgery, PA also offers non-surgical treatments such as laser hair removal, injectables auch as Botox, Juvederm, Radiesse, Sculptra, and Asclera, as well as Pixel Laser skin rejuvenation. They also have a fully equipped Medi-Spa offering facials and skin care products, peels and other treatments.
Dr. G's Weight Loss and Wellness Clinic is located only ten minutes from Take Shape Plastic Surgery P.A. in Plantation, Florida. They offer a safe and effective doctor-supervised weight loss program. Their "no one size fits all" philosophy has allowed them to create a personalized physician-supervised medical weight loss plan that uses its proprietary software and a full medical evaluation including blood work, EKG, metabolic rate, body composition and behavioral history to create comprehensive customized plans. These plans may incorporate FDA-approved medication and herbal supplements. Using this analysis, a patient's past problems with weight loss can be attended to and fixed to make weight loss easy and convenient for them. Dr. G's combines individualized meal plans with activity and fitness routines. Finally, they understand that keeping off the weight is just as important as losing it and they offer maintenance programs and support to ensure continued success.
After a long career as an OB/GYN, Dr. Charles Goldsmith founded this effective weight loss program. His medical background allowed him to use his knowledge to determine which programs work for which patients. Dr. G's also offers a variety of wellness and nutritional products including teeth whitening, RevitaLash, and a line of protein shakes and bars. Dr. G's Weight Loss and Wellness offers programs that have been proven successful by the 75,000 patients who have collectively lost more than one million pounds in the past 18 years.
Dr. G's welcomes patients to call 954-4231495 or to visit http://www.DrGsWeightLoss.com to schedule an appointment at their Plantation location at Contour Day Spa – 455 S.W. 78th Ave Plantation, Florida 33324.
Take Shape Plastic Surgery, PA is a Medicare-certified, state-licensed, nationally-accredited, ambulatory surgical center. They offer many cosmetic and reconstructive procedures and the practice is committed to offering patients procedures that will allow them to obtain their desired result. Patients can be assured that Dr. Sassani and his team possess the skills, training, and aesthetic eye to ensure that the patient's desired cosmetic result becomes a reality. For more information please call Take Shape Plastic Surgery P.A. at 954-585-3800 or visit us on the web at http://www.takeshape.info. Take Shape Plastic Surgery P.A. is located at 4161 N.W. 5th Street, Suite 100, Plantation, Florida 33317.