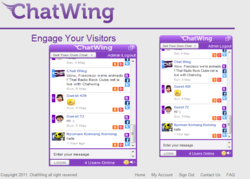 Salt Lake City, UT (PRWEB) June 30, 2012
Hobby blogging is now considered as one of the best activities in the blogosphere. This is based on the numbers of blogs created for the sole purpose of different hobbies around the world. To empower this specific niche, the Chatwing development niche has recently launched a globally efficient chat widget. This chat application has been introduced in other blogging communities such as Wordpress, Livejournal, and Posterous. The Chatwing tool is also known for its high rate of global connection.
Hobby bloggers have benefited a lot from Chatwing's social media integration feature. With this option, Chatwing users can now log in with their Facebook or Twitter account. This feature is the reason why many bloggers have relied on Chatwing when it comes to expanding their social networks. Adding to that, the Chatwing shoutbox can accommodate up to 600 users. This simply means that hobby bloggers will be able to communicate effectively within the least possible time.
The developers of Chatwing shout box are also planning to have a 1000-capacity upgrade. In this way, more people will be able to connect with each other. Few months ago, the Chatwing team has worked diligently to introduce the chat box to different blogs and websites. The tedious work paid off, as reflected by Chatwing's overall online ranking. Chatwing's easy installation mechanism has benefited a lot of bloggers, not only in Tumblr, but in other free hosting sites as well. To install the Chatwing widget, the user just needs to register his blog's domain name. After that, he can now customize the size, color, and title of the widget. Once everything is complete, Chatwing will generate the HTML code necessary for embedding.
The Chatwing team has noted that Tumblr hobby bloggers have also been using the web chat tool to find tips and friends who also share the same interests. To ensure that bloggers will get the proper communication leverage that they need, the Chatwing dev team will continue introducing various upgrades. This will make the Chatwing platform reliable in terms of communication.
About Chatwing.com
Chatwing.com has developed live chat software for websites and blogs. It caters to different online communities due to its high rate of connectivity. Everyone can create a customizable live chat box feature in 1 minute or less. Users have the ability to customize the size, color, and fonts of the chat product. The ability to chat via social media accounts such as Facebook and Twitter enable Chatwing to offer a personal and unique real-time experience to all sites. Chatwing is 100% free and very easy to use.