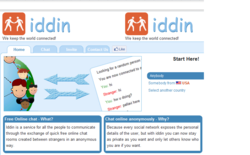 Cambridge, MA (PRWEB) June 30, 2012
Iddin Live is now turning the tide of random web chat by launching an application that triggers spontaneous and random chatting. This application has been introduced in different chat communities like dating and human interests. The Iddin Live team is working round the clock to reach many web surfers across the Internet. Also, the latest version of Iddin chat engine is now improved with a reliable photo upload feature.
The photo upload feature is necessary to help people find dates and new friends in Iddin chatroom. According to the findings of Iddin team, people who have pictures tend to maintain conversations for a longer time. This simply means that having a picture in Iddin is crucial for communication. Aside from the photo upload feature, the fast connection of Iddin online chat app has benefited a lot of its users. Despite the fact that there are thousands of users connected in Iddin everyday, the chat platform is still running smoothly.
Date seekers can also engage in steamy love chat with other strangers as well. The spontaneity brought by Iddin has appealed to a lot of strangers online. Instead of leaving any personal information, an Iddin user can chat online right away. The user is not prompted to give out his name or contact number—it is under his discretion. The Iddin team has also noted that a lot of users are exchanging social media information in the chatroom.
The fact that anyone can chat free and assume different identities has touched the inner desires of many people. This is the reason why the Iddin chat engine is maintaining a good online rank. Adding to that, the Iddin development team is intent on pursuing various upgrades and developments to make the chat engine run smoother than ever. Recently, the Iddin team is branching out to social media communities in order to reach out to more people.
About Iddin
Iddin is a free web application that specializes in generating random chat with strangers. Users can choose the locations of the strangers, or they can have the engine to search the whole world. Random chat is encouraged to protect the identity of people and also to empower spontaneous connection that is fun and interesting. Users can visit http://www.iddin.com to discover its features.