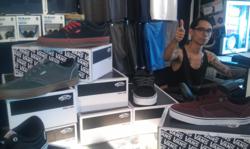 When it comes to skating, the only option for me is Vans, something about them just feels so right!
Annapolis, MD (PRWEB) June 30, 2012
Vans Shoes have been a favorite choice for skaters since they were founded in 1966. Pure Board Shop has always carried Vans because of this. Vans are known for having one of the best board feels in the industry. They offer loads of control and a low cost and low weight. New in Pure Board Shop are Chukka Lows, Type II, AV Native Americans, and Linderos. All of these shoes have been designed for skateboarding.
The Lindero is a brand new Vans low-top style with hard skating ambitions. Their performance design offers Pro Skate Vulc construction, and supportive polyurethane cushioning.
The Chukka Low was designed by the Vans skate team. The inspiration was based on shoes like the Authentic and the Chukka Boot, using Syndicate features and technology. Every season we'll mix it up with different riders to showcase the creativity and diversity of the team. The shoe is bound to be a classic and spotlights the timeless style of Vans.
The Type II, long only a rumor amongst skate communities, finally emerges this season, and proves to be the new low-top champ at the skate spot. Vans heritage looks combine with premium uppers and a whole bunch of comfort and performance innovations. The design includes supportive elastic tongue centering straps, a contoured footbed, and increased cushioning.
Skate Pro Anthony Van Engelen brings you his brand new AV Native American Low design. They come with super sturdy Pro Skate Vulc construction, extra cushioning, and supportive, non-restricting Flex & Fit uppers.
All of these shoes can be found at Pure Board Shop, but you better get there fast because they are selling fast!
Pure Board Shop opened its doors on May of 2005. Its ease of access and parking make it a destination shop for riders and urban street ware fans alike. With their mix of products and variety in skate, snow, surf and exclusive streetwear and shoe brands Pure's customers extend far beyond their Annapolis location. Pure prides itself on making customer service its number one priority, with product knowledge and having the right product mix a close second. The store and the website feature an ever growing brand inventory such as Nike SB, Nike Snowboarding, Adidas Skateboarding, Vans, Diamond,HUF,LRG, RVCA and The Hundreds. The shop also prides itself on having the largest variety of longboard equipment in the area; with brands like LandYachtz, Rayne, Caliber, Cult Wheels,Abec11 and many more. Pure puts on monthly skateboard jams/events in their local skateboard park as well as sponsors many longboard slide jams in the DC Metro Area.
Contact Pure at 410-267-7669 or visit them on the web at pureboardshop.com