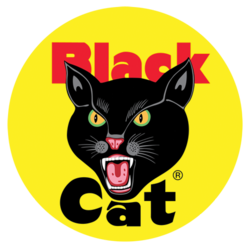 Black Cat is the Best You Can Get!
Prairie Village, KS (PRWEB) June 30, 2012
As the biggest event of the summer quickly approaches, Black Cat® Fireworks announces the launch of its new and improved "Where to Buy" fireworks locator on BlackCatFireworks.com, making it even easier to find the nation's most recognized fireworks brand.
By visiting 'Where To Buy" on the website, customers can simply type in their zip code and find a list of Black Cat® retailers closest to them. The listings include the address, a Google map for directions and the retailer's hours of operation. Customers can also find if the location is open year round or seasonally.
Before heading out to the nearest Black Cat® location, customers can also learn about the Black Cat® Fireworks Rewards Program on the company's website. If customers save the UPC codes from their favorite Black Cat® aerials and fountains, they can send them in, along with a dated sales receipt, to redeem free Black Cat® accessories, another perk to being a loyal Black Cat® fan. Customers can now be decked out in Black Cat® gear when they light up on the Fourth of July with the purchase of additional accessory items from the Black Cat® Fireworks online store.
To learn more about Black Cat® Fireworks, visit http://www.BlackCatFireworks.com.
For the past 60 years, Black Cat® Fireworks has been the #1 most recognized fireworks brand in America. The Black Cat® brand was introduced in the U.S. in the 1940s and is now the oldest and most highly recognized fireworks brand in the country. Black Cat® has evolved from the basic firecrackers to a product line that today contains over 500 items. Continued focus on quality, safety and innovation has made Black Cat® an international brand, with presence in markets all around the world. For more information on Black Cat®, visit http://www.BlackCatFireworks.com.