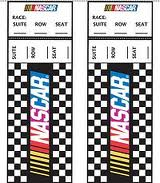 Pittsburgh PA (PRWEB) June 30, 2012
NASCAR Tickets are still selling strong as the 2012 Sprint Cup Series approaches its midway point. With some huge events queued up in the coming months, NASCAR fans are speeding up to buy their tickets. For fans who missed Matt Kenseth's win at NASCAR's iconic Daytona 500 in February, they can still get NASCAR tickets for Coke Zero 400 at the Daytona International Speedway on July 7th.
However, those who are thirsty for a more tantalizing race can still get their NASCAR tickets to the next big thing in Indianapolis — The Crown Royal Presents The "Your Hero's Name Here" 400 At The Brickyard event is expected to have a huge turnout July 29th at the Indianapolis Motor Speedway.
Other exciting races coming up later this year are the Good Sam Club 500 at the Talladega Super Speedway October 7th, and also the Kobalt Tools 500 at the Phoenix International Raceway on November 11th. Of the two, the Good Sam Club 500 is an especially anticipated race, with the most highly competitive spirit of almost all NASCAR races. For instance, this race has seen the highest number of lead changes in all the history of NASCAR.
These races are regarded as some of the biggest and most important in the Sprint Cup series, so fans are already scooping up these NASCAR tickets fast. These huge events are in high demand as ticket sales soar across the Internet. Even tickets for the famous 2013 Daytona 500 are already selling well ahead of next year's race, for those who missed it this year.
Headline Tickets Now is one of the most popular secondary ticket websites on the Internet. They have affordable tickets for sports, theater, and concert events across the United States and Canada, all without service fees. Headline Tickets Now is an accredited business with the Better Business Bureau (BBB) of Western Pennsylvania.
Please Use Discount Code "nascar2012: for 3 percent off your Favorite NASCAR event.