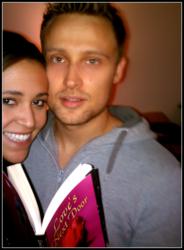 Emily said yes, yes, yes, after reading Jordan's wedding proposal in personalized romance novel, Love's Next Door
London, ON (PRWEB) June 30, 2012
Looking for a unique way to "pop the big question" and dropping to bended knee seems blasé? Book By You, the world's leading publisher of personalized books has just the answer - a personalized romance novel with a happy ending to beat all happy endings - a wedding proposal. In a twist where fiction turns into reality—Book By You has now helped another of its customers create the ultimate "happily ever after" wedding proposal for his own true romance.
In this real-life love story, our hero is Jordan Tant, a soccer coach from the U.K., now coaching in Plainsboro, NJ and wildly in love with Emily our gorgeous heroine—an avid reader of romance novels. Like most heroes, Jordan wanted to sweep his lovely heroine off her feet with a unique marriage proposal. That's when he turned to Book By You with a special request: Would the company create a customized novel so personalized that it actually included a proposal to Emily?
Company founder Mike Pocock and his team were happy to help and in fact this not the first time they'd been approached with this request. Jordan gave them all the information needed to personalize the novel including his beloved's name, hair style, eye color, and many other physical and personal attributes. Pocock explains: "In the original personalized version of Love's Next Door novel, our hero gets back in touch with a girl he admired from high school, and by the end of the novel, the now-adult pair have finally admitted their romantic feelings. One morning, the heroine notices a blue ribbon hanging from her boyfriend's pocket. She pulls on the ribbon and discovers a ring—and the hero explains that it's a promise ring that he hadn't had the courage to give her when they were in high school."
In customizing the personalized book for Jordan and Emily, Book By You changed the story to include an inscription on the ring given by Jordan to Emily. The revised inscription read: "Will you marry me?" Pocock adds, "This was the last paragraph of their book so we included a highlighted box beneath the text reading: Emily, we were unable to complete the writing of this special story because, like Jordan, we await the answer to the question: Will you marry Jordan?"
Jordan gave the book to Emily and confirmed that the plan succeeded. "She read the book and thought it was so cute and loved the story. She had no idea what was coming and was completely surprised. She said yes right away and we've been on top of the world ever since." The pair thanked Book By You for helping them find an unforgettable way to start their new life together.
This isn't the first time Book By You has helped Cupid. With dozens of personalized books in a variety of genres and styles, Book By You has crafted several one-of-a-kind novels to delight and surprise many lucky recipients. The company's latest personalized novel is Wedding Favors all about the fun and frenzied chaos of preparing for a wedding—a novel that's bound to have special meaning for newly-engaged couple Jordan and Emily. Sales of this new book have been rocketing off the company's virtual bookshelves and is a perfect first anniversary gift (paper anniversary gift).
Personalized romance novels from BookByYou.com are only $39.95 for the paperback edition and $59.95 for hardcover. Gift-givers can add a free dedication within the novel, add a custom photo to the back cover, or purchase gift certificates.
To purchase a Book By You® personalized novel, readers go to the company's website at http://www.BookByYou.com and complete a character questionnaire specifying the information to be included in their book. The company offers a free demonstration area where readers can preview personalized books from any of the company's classic, teen, romance, mystery or children's novels. Media interviews and promo images are available upon request 1-877-898-1440 or publish(at)BookByYou(dot)com.
###