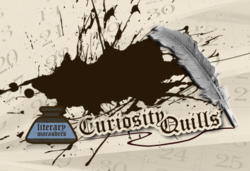 We have always firmly believed that the best way for authors and readers to connect was to literally introduce them to one another in an easy-to-consume serial format, without commitment - and the numbers speak for themselves.
New York, NY (PRWEB) June 30, 2012
Already known for showcasing the best in serialized web fiction, Curiosity Quills Press expands its lineup with five new serials arriving in the Summer of 2012.
The expansion begins on July 16, 2012 with "Death By Chocolate", by Johanna Pitcairn, publishing a new installment every Monday. In this urban fantasy tale, one teen girl from a privileged background runs from herself and her troubles with the law and finds herself in an unexpected place – within a magical box of chocolates given to her by a gypsy.
Next, author Anthony Mathenia asks the eternal question in, "Happiness: How To Find It" on July 26, 2012, and every following Thursday. Just out of high school, Rose Gluck thought she had found the key to happiness. She spent her days working as a pioneer minister of her Jehovah's Witness faith, going door-to-door teaching others about the Bible and the happifying future God had planned. But things change when the dashing young brother, Wyatt True, joins the congregation and Rose experiences feelings she never knew existed. Now Rose must choose between the happiness of true religion or true love.
Amy Fecteau will be bringing us "Real Vampires Don't Sparkle," every Sunday beginning August 19, 2012. Matheus Taylor didn't ask to be murdered. But a seventeen-hundred year old Roman, Quintus Livius Saturnius didn't care that Matheus wasn't done living his life. Now Matheus spends his nights running for his life, questioning his sexual orientation, and defying a mysterious new threat to the vampires within his city. He never had any interest in being a vampire hero; he just wanted to be left alone. Unfortunately, that's never going to happen.
On August 7, 2012, Gerilyn Marin begins her serial "Buried", which will arrive every Tuesday. The residents of Fane's Cove are accustomed to near-daily supernatural happenings. So Cadence McKenna doesn't understand why she's the only person to believe there is something odd about the new resident, Gray Addison. With psychic sensitivity handed down from her grandmother, she knows that what she feels isn't simple paranoia. But anyone can see that he's weird – I mean, what normal guy would pay no mind to random poltergeist activity occurring right in front of them? It's up to Cadence to find out why Gray is in Fane's Cove, even if it means putting herself in danger and learning more about her town's history than anyone would ever want to know.
Finally, in early fall we have "The Serendipitous Curse of Solomon Brandt", by bestselling Kindle author, Aiden James. In this paranormal romance, the selfsame Solomon Brandt - an evil plantation owner who was murdered by his slaves - comes back to life in the modern era. In his new life, Solomon finds redemption and does something he would never expect – falls in love with one of the descendants of the slaves he tortured and killed. The girl loves him back but can't shake the feeling that something is wrong about him and the trio of Hoodoo priestesses that cursed him will do anything to keep this unnatural romance from taking root. Perhaps there are some evils that can never be forgiven.
These five new we serials join the publisher's other established and successful speculative fiction serials; Space and Time by Sharon T. Rose, The Stein & Candle Detective Agency by Michael Panush, Blood Redemption by Vicki Keire, William and Bill Vitka's The Kulture Vultures & the Plot to Steal the Universe, and the recently-concluded Bone Wires, by Michael Shean (which will be available as a novel in print and digital form on 7/19).
Operations director, Lisa Gus, had this to say about the new arrivals:
"We have always firmly believed that the best way for authors and readers to connect was to literally introduce them to one another in an easy-to-consume serial format, without commitment - and the numbers speak for themselves. We're exciting to add this new batch of serials to the Curiosity Quills Press website, and hope that authors still on the fence about serializing will think about braving these fast-moving, but ever-so-exciting waters!"
Be sure to visit the publisher's website, http://curiosityquills.com, for the latest updates regarding its serialized web stories, as well as print and digital books.
About Curiosity Quills Press:
Curiosity Quills Press (http://curiosityquills.com), launched in June, 2011 by writers, for writers, out of a common frustration with the state of publishing today. Instead of relying on readers to sift through the so-called "Amazon slush-pile," CQ presents a uniformly top-notch level of quality, tastefully curated, hard-hitting storylines, and memorable characters readers won't forget amidst their Kindle downloading sprees.
We know it's hard to stand out from the crowd when it's millions large, but Curiosity Quills Press helps level the playing field through its members' innovative social media approach, a transparent culture, and a deeply passionate team.