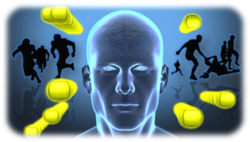 NeuroTracker improves sustained attention
(PRWEB) June 30, 2012
Taking aim down the gun sight, steadying herself against the barely perceptible sway as she readjusts her vision to focus on the target, Heena Sidhu squeezes the trigger and executes a perfect shot. At the highest levels of shooting, the game is purely mental, with focus, concentration and emotional regulation crucial to maintaining game-winning composure. Training with NeuroTracker since May, the young Indian pistol shooter has improved her sustained attention according to her coach, Canadian Olympic trainer Pierre Beauchamp. Both are confident that she has a great chance to take a medal.
Honing her mental game with Sports Psychologist Pierre Beauchamp has been an intense training period for Heena. With the mental performance side of shooting so important, especially at the highest level, maintaining focus and concentration stamina becomes paramount.
"At the highest levels of shooting the game is entirely mental," says Dr, Pierre Beauchamp, "NeuroTracker has improved Heena's sustained attention which will be invaluable to maintaining focus when it matters most."
Preparation has included more than 70 sessions on NeuroTracker, a perceptual-cognitive training device that improves sustained attention. This is critical for a shooter who has to take 40 calm and precise shots over the course of an hour and fifteen minutes. It is known that athletes' shooting accuracy tends to decrease due to the challenge of maintaining concentration. Heena Sidhu is training with NeuroTracker to sustain the optimal level of focus for every shot.
"My preparations are going well," says the 22 year-old rising Olympic star in the run-up to the Games, "and I'm very positive about my results in London."
Heena Sidhu will continue to train intensively on NeuroTracker in the coming weeks in Germany while preparing for the games. She will be fine tuning her mental game to give her the edge that she needs to succeed, and enable her to take a shot at gold.
CogniSens Athletics
A Canadian company that develops, in partnership with the University of Montreal, cutting-edge training technology for boosting mental performance in sports and rehabilitation. See below for further information on their main product: