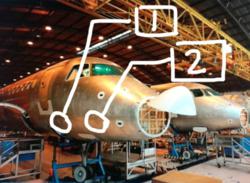 Lower Manufacturing Costs, Improve Quality and Safety with Tablet-based Mobile Software for Factory Use
Los Angeles, Southern California (PRWEB) June 30, 2012
New software from Inspect2GO helps manufacturers lower production costs, improve quality/safety and increase throughput (see http://www.inspect2go.com/qc/). Inspect2GO's tablet software, mobile applications, cloud database storage and custom reporting solutions are ideal for the manufacturing environment. EHS safety audits, QC/QA product inspections, and production line monitoring can be conducted throughout the facility or at multiple plant locations via mobile tablet. Both browser-based (Wi-Fi, cell network, wireless intranet) software and native mobile apps are developed for Windows devices, Apple iOS products (iPhone, iPad) and Android tablets/smartphones.
Capabilities
•Defect Log – Record, photograph, note, describe defects
•Inspection Checklist – Convert your proprietary inspection forms/sheets to mobile applications
•Modify – Modify web/browser-based apps, add/remove questions and inspection criteria
•Inspection – Product/Sample inspection check sheets
•Cloud - Send data to Inspect2go's cloud server (or client's internal server)
•Images – Photo document all items/Hand draw on screen
•Reporting
--Advanced data handling software and analysis
--Statistical analysis of inspection data
--Chart/graph data to see trends – Line/bar charts
--Sort by defect type, location, date, manufacturing line
•Remedy
--Multi-level signoff check sheets to ensure defects have been addressed
--Automated notices to responsible parties
--Alerts when issues are not addresses on time
•Custom
--Software and apps tailored to your unique needs
--Mobile app, browser software and database integration
--.Net/PHP web application development, SQL database programing
--Mobile – Android tablet, Windows tablet, iOS (iPad, iPhone) custom app development
•Security
--Secure SQL server, hosted cloud solutions
--Software licensing for hosting on clients internal server
Industries
Custom application development available for EHS, Quality, Defect Inspection and Production
•Food - Food processing and packaging lines
•Medical – Pharmaceutical/Medical product quality control
•Vehicle - Aircraft, automobile manufacturing
•Consumer – Consumer product manufacturing
•Electronics
Purpose
Custom checklists, logs and reporting for many purposes
•Efficiency – Live production line throughput/yield monitoring
•Monitoring – Factory and facilities onsite monitoring
•Quality – Quality Assurance and Quality Control (QA/QC)
•Safety/Regulatory – EHS, ISO, USDA, FDA, OSHA regulatory requirement compliance self-audit per your customer supplied forms
•SOP – Manufacturing/Laboratory Standard Operating Procedures transferred from Excel, Word, PDF and paper forms/sheets to tablet
•Vendor – Offsite supplier surveys and incoming materials audit
ABOUT INSPECT2GO
Inspect2Go is a mobile application, cloud database and software development company based in Southern California. The firm's mobile technology includes inspection checklists and apps with signature, photo, markup, custom reporting, pdf, scoring and database functions. The checklist apps are compatible with Apple iOS (iPhone, iPad) and Android. Inspection results are sent to Inspect2GO's cloud database for storage. Reports, graphs, trends and data feeds can be retrieved from the cloud.