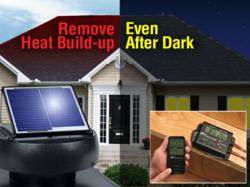 Since one remote can be used for up to 3 modules, we now offer the Module and Remote separately. This is our way of making the award-winning Solar Controller even better.
Incline Village, Nevada (PRWEB) June 30, 2012
U.S. Sunlight takes great pride in listening to the wants and needs of their customers. In 2011 the Solar Controller™ was released as an answer to the requests of customers asking for a way to run their solar powered attic fan after dark and an option to monitor their whisper-quiet fan's operation status – allowing easy monitoring of attic temperature and attic humidity. The Solar Controller as a whole unit comes with a module that is installed in the attic space, connected directly to the Solar Attic Fan and a remote control for the monitoring capabilities.
Utilizing only the Solar Controller Module, the customer will benefit from an upgraded electronic thermostat and humidistat. Additionally, the Solar Controller Module comes equipped with an AC Power Adapter to allow the fan to operate after dark. The Solar Controller Module does not require the Remote for operation.
With the addition of the Solar Controller Remote, the customer is able to monitor up to 3 different Solar Controller Modules connected to U.S. Sunlight solar ventilation products. Using the channel selection switch, the homeowner can monitor each fan's operating status, the temperature and humidity in that section of the ventilated area, and remotely engage or disengage the thermal switch of each fan. The thermal switch, when engaged will shut down fan operation when the attic temperature falls below 80 degrees F and the attic humidity is below 75%.
Robert Buckley, President of U.S. Sunlight Corp stated, "At U.S. Sunlight Corp we continuously try to listen to the requests of our customers - the Solar Controller was one of the innovative devices we developed in response to these requests. Since the release of the Solar Controller in 2011, we have been asked for the option to purchase the modules and remotes separately since one remote can be used for up to 3 modules. This is our way of making the already award-winning Solar Controller even better for our customers."
Call 1-877-50-USSUN today to learn more about the Solar Controller and our full line of solar ventilation products.
Best of Show – 2011 National Hardware Show
Best Sustainable Product – 2011 BUILDERnews
U.S. Sunlight Corp strives to provide "Alternative Energy for Everyday Life," by designing and manufacturing innovative solar and green products to save money for the homeowner. Introduced in January of 2011, the Solar Controller has taken the home improvement industry by storm, receiving laudable praise from homeowners and industry experts alike.