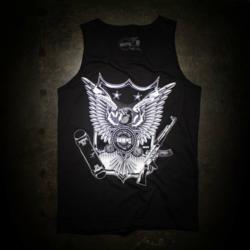 Miami, FL (PRWEB) June 30, 2012
8&9 Clothing the Miami based street lifestyle brand enlisted LA's infamous Freehand Profit the man behind the sneaker masks to remix it's New USA graphic. The collaborative piece is available only at 8and9.com in both tank top and t shirt options. The New USA tank is limited to 150 pieces and sold online only. Followers of @8and9 @freehandprofit got a sneak peek at the graphic and a chance to buy the limited tanks this weekend.
The collaborative graphic features a US Eagle holding a skateboard in place of the olive branches originally symbolizing peace and an AK-47 is the modern replacement for the arrows held in his talons. A classic Ramones inspired Black/White colorway for the tank tops and 2 original colors for the t shirts are both on sale now.
Freehand Profit is a Los Angeles based artist who earned his name in the DC/Northern Virginia graffiti scene. Since, he's rooted himself in LA's Hip-Hop scene and has been working to forget what he learned in art school. Freehand Profit is exploring the iconographic nature of masks through his MASK365 project which fans can read up on at freehandprofit.com
As east meets west streetwear and sneakerheads are sure to find something special in this collaboration. Checkout freehandprofit.com for more on the sneaker masks and 8and9.com to purchase the New USA pieces. For interviews or more information contact inquiries@8and9.com
Follow @8and9 @freehandprofit