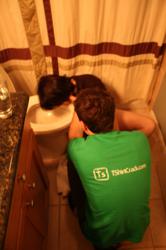 Get your head in that caramel fountain and get some shirts!
Henderson, NV (PRWEB) June 30, 2012
Back from the mothballs, funny t-shirt company TShirtCrack.com has returned to the printed graphic tee shirt scene with a new twist...digitally printed on demand tees. A better quality for customers, at faster turnaround times, and a softer feel to the prints of the cool shirts are just a few high points of the benefits of the new processes.
TShirtCrack.com remained "open" for the 2 years, but was not fulfilling orders of printed shirts. This allowed time for the crazy tee shirt company to still build page rank, and climb in dominance higher in the search of tshirt websites.
"We have outsmarted the system and built a better mousetrap," says president of TCDC Corporation. "So wake up and get your head in that caramel fountain and buy some offensive t-shirts!"