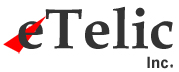 It is gratifying to be part of this fast paced industry, and specially fun to apply all three aspects - people, process, and technology - to solve a problem for the customer!
Richmond, VA (PRWEB) June 30, 2012
eTelic Inc. President Mukul Paithane announced today that the company is marking its eighth year in business as an Information Technology consulting firm.
eTelic Inc. was founded in 2004 as a software development firm by former Intel and Oracle senior manager Mr Paithane. Over the past several years the firm has expanded its service offerings significantly, and today it provides a wide range of IT and management consulting services to government and commercial organizations nationwide.
"We have come a long way since our early days," said Paithane. "As a result of continued hard work, and clients that appreciate a job well done at a fair price, we have grown into a multi-faceted company with products and services designed for increased productivity and lower operating costs," Paithane said.
Based in Richmond, Va., eTelic currently employs more than 25 talented and experienced professionals focused on providing the most effective and innovative solutions for our clients' operations. The primary services include:
 Custom software development
 Organizational transformation and business process improvement consulting
 Business intelligence
 Systems design and application architecture
 Recruiting and staff augmentation
eTelic is a federal government contract holder (GSA Schedule 70 – IT Services) and a certified small and minority business with the Virginia Department of Minority Business Enterprise. The company also is an authorized staff augmentation and IT project vendor with the Virginia Information Technology Agency. Over the years it also has established relationships to provide solutions based on software from other leading providers including Microsoft, SAP, OpenText, and Red Hat.
The company's delivery methodology incorporates "People, Process, and Technology."
It starts with the company's organizational transformation and business process improvement consulting features a unique, collaborative tool – Human Interaction Mapping – that enables all levels in the organization to discover and produce rapid, participative change and shared goals.
It is then followed with Enterprise Architecture definition by using MetaStorm Provision, followed by quick prototyping with company's unique cloud based tool, Turanto.
The IT consultants then deliver the last mile - whether it is by being on site or off shore, depending on customer needs.
"The customers have been extremely happy to receive the end to end service without having to hop through vendors," said Mr. Paithane, "We are expecting some major announcements to make this approach available to a wider audience."
Mukul Paithane is the founder and president of eTelic. He holds a Master's Degree in Computer Science from the University of Arizona, Tucson and a B.S. in Computer Science from the Indian Institute of Technology, Bombay. Prior to founding eTelic eight years ago, he served in several senior capacities with Amdahl, Intel and Oracle.