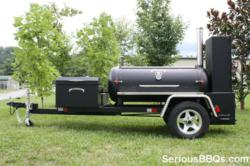 Meadow Creek has proved to the barbecue industry that they are a thriving, advancing brand.
(PRWEB) July 31, 2012
Earlier this year Meadow Creek Welding of New Holland, Pennsylvania has introduced a variety of changes to their line of revolutionary barbecue equipment. These innovations affect all their Meadow Creek smokers, pig roasters, and grills.
Meadow Creek has switched from expanded metal grates to a heavy wire mesh grate on all their cookers. Traditionally, they have used a food-grade stainless steel expanded metal for all the cooking grates. This style of grate looks good, but presents a couple disadvantages. First, it is manufactured in sheets, so Meadow Creek had significant waste to recycle and less control over the cost. Second, the edges of the diamonds were sharp and could easily cause an injury. Third, that style of grate had more metal surface than necessary, resulting in longer cook times and more difficult clean-up. Finally, the new grate mesh is welded locally, so they are able to support their local economy and avoid high shipping costs in transit to the shop.
The genius sandwich style grate on the chicken cookers remains the same. Mostly the panel style has changed. In appearance it resembles poultry wire with rectangle openings. On the chicken cooker trailers, the mesh has 7/8" wide spaces. The smaller chicken cookers, pig roasters, and smokers have 1/2" wide spacing.
Meadow Creek has added a screen panel option to the Ultimate Caterers, their line of custom catering trailers. The screened option keeps the cooking area free from flies and other pests. This will help customers in areas where a closed-in area for food prep is required.
Meadow Creek realized that their TS120 and TS250 Tank Smoker Trailer models had too much dead space beyond the ends of the cooking grates. They have added about 6" to the length of the doors and grates. Everything else stayed the same, except they've added more cooking surface. The extra space in the TS250 Barbecue Smoker allows for approximately two more briskets, four more racks of ribs, or six more Boston butts.
Meadow Creek now offers a charcoal insert for the gas pig roasters with a series of holes along the top, which means you can cook with both charcoal and gas at the same time. For example, you could start the cook with charcoal/wood to get a delicious smoke flavor; once it starts dropping in temperature, turn on the gas for the rest of the time.
Meadow Creek has been using a black heat-resistant paint with a slight sheen. It looks sharp when it's new, but looses it's shine after it heats up. They have switched to a flat black paint. This paint does not show scratches and dirt like the old paint does. Further, there will be less change in appearance from new to used.
Lavern Gingerich, marketing agent from Yoder's Smoky Mountain Barbecue in Pikeville, TN says, "We couldn't be more pleased to promote and sell Meadow Creek barbecue equipment. Melvin and his team have proved to the barbecue industry that they are a thriving, advancing brand."