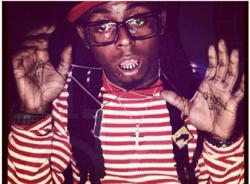 "Everything indicated a necessity for the pendant to move as a normal skateboard would."

New York, NY (PRWEB) July 13, 2012
Avianne & Co jewelers have recently collaborated with Young Money camp to create a custom iced out skateboard pendant. Of course, the custom piece is for none other than, Lil Wayne. After a great deal of brainstorming, it was finally decided that no pendant would suit Wayne more than a working, iced out, miniature skateboard.
"We were kind of sitting around thinking of ideas for a unique pendant. At one point i paused and remembered one of my childhood obsessions was Tech Deck fingerboards. 15 minutes later, Elliot was back from Toys R Us with the piece, and we got straight to work."- George Avianne, Custom Designs @ Avianne & Co.
Once the decision was made, it was straight to the drawing board. Although the custom design department has been creating custom jewelry for the past decade, they have never embarked on producing an iced out, miniature skateboard. The blueprint to this conception was elaborate, requiring an actual model finger board to be scanned and replicated in a 3D imaging program specifically designed for jewelry production. A close friend of the Young Money general, who actually took part in organizing this order, made clear that the pendant had to move freely.
"Everything indicated a necessity for the pendant to move as a normal skateboard would," said Elliot Avianne. Making each of the design aspects flow seamlessly throughout, became a true challenge. Clearly it was not like producing a simple diamond diamond dog tag. The custom design team spent a great deal of time in the custom design room perfecting every detail, ensuring that the wheels would spin properly even after the extensive pressure applied from diamond setting.
As of late, Lil Wayne, has been heavily involved with the Skateboarding world. He is constantly skateboarding and becoming a larger part of the once underground skateboard movement. It was only appropriate that the producers of some notable diamond pendants and various other world renowned celebrity jewelry pieces would be the ones to craft this piece.
The completed skateboard pendant was created out of 18K White gold and held a total of over 5.50 carats in diamonds. The rich outline of white diamonds provided immense contrast to the entire design. The back of the pendant was actually covered in a custom ordered red enamel. Over the enamel there is an inscription of "LIL TUNECHI".
To see the pendant online, or to view other notable pieces of celebrity jewelry, log onto Avianne & Co Jewelers website.