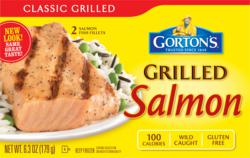 The brand found it necessary to help consumers navigate their diverse selection, and more easily find the products that suit them.
Gloucester, Mass. (PRWEB) July 13, 2012
Just as consumers need to freshen up their look every now and then, so do brands – even the iconic Gorton's Seafood. Their new packaging has the bright yellow color and the trusted Gorton's Fisherman at the helm, as always. But the packaging has been updated to make it easier for consumers to find the products they want and the information they need.
As Gorton's product line has changed over the years, along with the tastes and demands of their consumers, their product line has grown well beyond their classic Fish Sticks. Gorton's Seafood now has such diverse products – ranging from breaded, battered, and grilled preparations in a variety of flavors, to salmon, tilapia and shrimp varieties – that the brand found it necessary to help consumers navigate their diverse selection, and more easily find the products that suit them.
Gorton's also heard from consumers that they wanted key nutritional information on the front panel of food packaging, where they could quickly and easily find the information they are seeking. The leading frozen seafood brand made a point to incorporate this change into the new designs.
"As consumers ourselves, we understand the desire for variety and options when shopping, but there is also a desire to find what we need quickly and easily," said Zach Soolman, Director of Consumer Marketing. "We want to make the shopping experience simple and informative for our consumers. We've made distinct looks for each of our different product segments to help consumers locate their preferred items. We also know that nutrition information and certain product attributes are important to consumers when making shopping decisions. Now our packaging contains key information right on the front of the package, like the assurance that there is no MSG in any of our products, or that our products contain 100% real fish and no fillers. We have also made the calorie count and the gluten free labeling on our Grilled Fish items more prominent, so that consumers can find the information they need quickly and easily."
The back panel of all of Gorton's packaging has also been updated. In addition to cooking directions that are clearly displayed and easier to read than their previous design, each package features the USDA's recommendation to eat seafood twice a week, tempting food photography of a meal idea to whet your appetite, and the URL for their newly designed recipe section where you can search through hundreds of easy and delicious seafood recipes.
The new packaging retains the trademark yellow and blue logo of Gorton's previous packaging, which makes the products easily identifiable by consumers. Another thing that has not changed on the packaging is the presence of the Gorton's Fisherman, who is represented across the entire line, and continues to highlight the company promise, "Trust the Gorton's Fisherman."
Gorton's offers downloadable coupons and a free digital newsletter that provides monthly recipes and coupon offers on the Gorton's website, http://www.gortons.com. In addition, Gorton's Seafood is on Facebook and Twitter where consumers may connect with the brand in social media and be the first to hear about news, contest announcements and special promotions.
For more information about Gorton's gluten free products, please visit http://www.gortons.com.
About Gorton's Seafood
Founded in 1849, Gorton's is one of America's oldest continuously operating companies. Headquartered in Gloucester, Massachusetts, Gorton's continues to be the innovative leader in the seafood industry. Gorton's full line of frozen seafood products includes Breaded and Battered Fish Sticks and Fillets, Grilled Fillets, including Tilapia and Salmon, Premium Fillets, Premium Shrimp, Flavored Fillets, Tenders, and Popcorn Shrimp. Gorton's products are available nationwide in better independent and chain grocery stores. Gorton's proudly stands behind its products with its "Trust the Fisherman Guarantee," which represents an unwavering commitment for over 160 years to providing the best-tasting, highest quality seafood meals. The Gorton's Fisherman, in his yellow slicker and rain hat, has become an icon symbolizing this commitment. For more information, please visit http://www.gortons.com or call 1-800-222-6846.
###