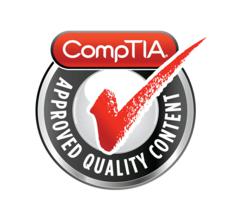 CompTIA's Network+ is a staple for the IT Workforce
Largo, Florida (PRWEB) July 31, 2012
With the Network+ N10-004 scheduled to retire August 31st, 2012 ExamForce has released the N10-005 version of CompTIA's venerable Network+. ExamForce's N10-005 CramMaster recently passed the rigid CompTIA Authorized Quality Content process from testing vendor ProCert Labs.
"CompTIA's Network+ is a staple for the IT workforce" explained ExamForce president Kevin Forcier. "It is one of our top selling products and a critical step in the certification path for anyone serious about a career in network management. As a long time partner we continue to support CompTIA as they keep pace with the rapidly advance of technology and the subsequent need to verify the essential skills IT professionals require to do their jobs effectively."
The newest version of Network+ includes additional focus on the seven layer OSI model delves more deeply into DNS (Domain Name System) and introduces virtualization concepts. It also puts more emphasis on network security, which is pervasive regardless of what discipline or path an IT professional chooses to take.
About CompTIA
CompTIA is the voice of the world's information technology (IT) industry. As a non-profit trade association advancing the global interests of IT professionals and companies, CompTIA is the recognized authority for IT education and credentials and the primary advocate for IT businesses and workers on a national and international scale. Through its foundation, CompTIA also enables disadvantaged populations to gain the skills they need for employment in the IT industry. CompTIA's vision of the IT landscape is informed by more than 25 years of global perspective and more than 2,700 members and 1,000 business partners that span the entire IT channel. For more information, visit http://www.comptia.org or follow CompTIA on Twitter at http://www.twitter.com/comptia.
About ExamForce
A division of LearnForce Partners LLC, ExamForce was founded in 1999 to assist individuals and organizations with preparing for and passing IT certification exams. Since its inception, ExamForce's industry recognized materials have assisted countless people in growing their knowledge and advancing their careers. ExamForce develops and sells training and practice test software, audio preparation programs, study guides and flash cards for the Information Technology, Financial and Trade marketplaces. For more information go to http://www.examforce.com; follow us on Twitter at http://www.twitter.com/ExamForce and Facebook at http://www.facebook.com/ExamForce.