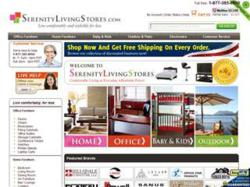 RICHMOND, British Colombia (PRWEB) July 30, 2012
Serenity Living Stores, an internet-based provider of furniture, electronics and baby gear, is pleased to announce its participation in the UpFront program, a system designed to assist shoppers by providing them with essential information they need in order to become informed online consumers. Serenity's commitment to UpFront means that every webpage on its site contains the UpFront link. Customers can see it by scrolling down to the bottom of the product listings or other content on the page and looking in the left-hand margin, where they will see an oval shaped logo and the words, 'This store is UpFront. Click for store info.'
Clicking on the link will bring customers to an independent website operated as part of the UpFront merchant program. The UpFront page includes contact information for Serenity Living, along with other data points that customers will find of use. This includes, not only such vital information as options for payment and shipping policies and charges, but also a statement on how long Serenity has been in business. The purpose of participating in the program is to enable Serenity to be 'up front' with its customers, who can have an added level of trust in the company once they see that key information from Serenity has been verified by the UpFront merchant program.
Visitors to the Serenity website who follow the UpFront link from any page will learn that shipping options include both UPS and FedEx. Customers will immediately be able to see that at Serenity Living, they can pay for their desired purchases not only with credit cards such as MasterCard, Visa or American Express, but also with other secure online options that include Amazon Payments, Google Checkout and PayPal.
On some websites, it is difficult for customers to ascertain this kind of information unless they go to the trouble of setting up a shopping cart and starting the check out process. Because Serenity participates in the UpFront merchant program, however, they can learn about their exact payment options with one click.
The UpFront page for Serenity Living also lists the certifications enjoyed or exercised by the company. These guarantee that the company is taking the appropriate steps to keep customer data and online shopping safe and secure. Serenity's certifications include McAfee Secure, the BuySafe Guarantee and SSL (Secure Socket Layer) for online connections.
Thanks to UpFront, visitors to the Serenity website will learn that the company's headquarters are located in Richmond, British Colombia and that it has been trading since 2009.
To learn more about Serenity Living and the products it offers for sale, simply visit the company at serenitylivingstores.com and browse the site or use the helpful search box.