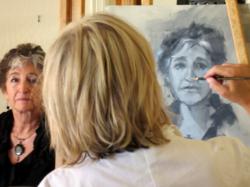 Had I planned the Torrit Grey demo months in advance, I couldn't have found a subject better suited for this portrait than Joan - she unknowingly even dressed the part!
Phoenix, AZ (PRWEB) July 30, 2012
The day before Arizona artist Chris Saper was to host a private studio tour for members of the Portrait Artists of Arizona , a package of gray oil paints arrived in her mailbox, compliments of the Gamblin Oil Color company. Since Saper's Phoenix studio is small, it would be a challenge to accommodate the nine visiting members, let alone entertain them for more than the few minutes that would be required to 'tour' the entire space. But as luck would have it, the US Post Office and PAOA guests unwittingly conspired to create an event that was both fun and educational.
The group "volunteered" artist member Joan as a model, and she graciously sat for over an hour for the portrait demonstration.
Each spring, the Gamblin paint company creates and tubes a conglomeration of pigments captured in the factory's filtration system, and distributes free tubes of the resulting "Torrit Grey" to artists, inviting them to participate in an annual competition. The rules are simple: create a painting using only black, white, and Torrit Grey oil colors. Saper's entry, "Woman in White" took First Place in the 2008 competition.
The Portrait Artists of Arizona, a 501(c)(3) organization dedicated to the practice and promotion of fine art portraiture. Portrait Artist Chris Saper has painted commissioned portraits professionally for over 22 years, delivering almost 400 paintings to clients nationwide. She is the author of "Classic Portrait Painting in Oils: Keys to Mastering Diverse Skin Tones", four instructional DVDs, and teaches at the Scottsdale Artists' School, as well as other venues.