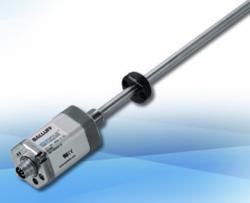 Florence, KY (PRWEB) July 18, 2012
Balluff expands its Micropulse® Generation 7 linear position transducer line to include models with SSI Synchronous Serial Interface.
Micropulse SSI-output transducers interface with popular control systems from manufacturers such as Allen-Bradley, Delta Computer, Siemens, Bosch Rexroth, and others. With position resolution to 1 µm, Micropulse SSI-interface transducers are ideal for high performance linear positioning and closed-loop control applications.
Micropulse Generation 7 linear position transducers offer improved performance, higher resistance to mechanical shock and vibration, advanced user-configuration options, and are 100% backward-compatible to previous Micropulse transducers.
Features:

Stroke lengths from 25 mm to 7620 mm
Pressure rated to 600 bar; ideal for use in hydraulic cylinders
Update rates up to 5 kHz for improved dynamic performance
User-configurable via PC/USB interface
Balluff Micropulse® Generation 7 linear position transducers provide highly accurate and reliable position control signals. Balluff's non-contact magnetostrictive technology means performance does not degrade over time, as with linear potentiometers. Micropulse® transducers are very popular in the lumber industry, plastic injection and blow molding, tire and rubber manufacturing, stamping presses, die casting, and all types of automated machinery where a continuous, absolute position signal is required.
For more information on Balluff Micropulse transducers, visit: http://www.balluff-usa.com/micropulse
Editors: Download the high resolution press image on Flickr.