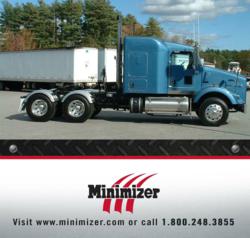 Blooming Prairie, Minnesota (PRWEB) July 02, 2012
"The bracket kits were so easy to install!" says Brian Roberts of Kris-Way Truck Leasing.
Kris-Way Truck Leasing, based in South Portland Maine is New England's largest independent truck leasing company in New England, with nine full service maintenance facilities located in Maine, New Hampshire and upstate New York. They provide full service leasing, contract maintenance, and dedicated contract carriage for the transportation industry.
Recently, Brian installed Minimizer fenders on six brand new T800 Kenworth trucks. He used the liquid platium model of the MIN150 poly fenders combined with the poly bracket system from Minimizer.
"We also retrofitted another new T800 that came with stainless steel half fenders. When the customer saw the Minimizers on another truck they immediately wanted to dump the stainless fenders and install the Minimizer product, so we did," said Brian.
The poly bracket system and the fenders are guaranteed for life and are designed to work together. The bracket system absorbs road vibration and bends with the fender to prevent breaking.
"Our customer was so impressed," said Brian. "Because the Minimizer system is flexible and easy to install, we were able to avoid drilling any holes and get the clearance we wanted. Everything looks really nice, we love the integrated bracket system Minimizer has developed!"
The sales staff at Minimizer are quick to make sure they have the right product for the right truck. Paul Tollefson, Minimizer Northeast Regional Sales Manager for Minimizer discussed the process of working with Kris-Way and making sure everything was perfect.
"Brian contacted us and provided us with the truck information, the type of fender use and style he was looking for and he also mentioned he wanted a real high end custom look," Paul noted, "So we matched him up with our liquid platium style and they were very pleased with the outcome."
Minimizer fenders will enhance the performance of all makes and models of over the road trucks, construction vehicles, or agriculture equipment. Enhance and protect your vehicle with Minimizer products. The toughness is unmatched as seen on this Minimizer promotional video entitled "Tested & Tortured".
For more information or to contact a dealer, call us at (800) 248-3855 or visit our website or email us at info (at) minimizer (dot) com.
About Minimizer
Headquartered in Blooming Prairie, Minnesota, USA, Minimizer manufactures poly truck fenders, poly toolboxes, customized mud flaps, and bracket kits. Family owned and operated for nearly three generations, Minimizer parent company Spray Control Systems, Inc., was founded in 1983. Minimizer aims to provide products tough enough to please tough people in a tough industry. For more information call (800) 248-3855 or visit http://www.minimizer.com.