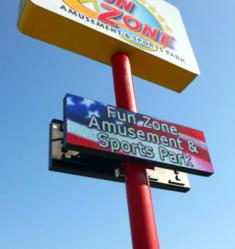 McCumber reported a measurable increase in business. "The sign has directly helped us with that."
Andrew McCumber, Owner of Fun Zone
Pooler, GA (PRWEB) July 12, 2012
Pooler is one of Georgia's fastest growing cities and it is slowly becoming a major commercial development attraction in Chatham County. Along with this expansion and the additional growth of nearby Savannah, Pooler business owners are seeing an increasing need to advertise directly to this local market. One such person is marketing director turned business owner, Andy McCumber. He owns Fun Zone Amusement & Sports Park, located at 1040 US Highway 80 E.
The city's growth has been good for McCumber who reported that 2011 was the best year so far, and 2012 is slated to be even better. "We have [recently] spent over a half million dollars [for] upgrades to our Arcade and renovations to our go-karts" he said. Fun Zone is open year round and offers a host of activities for all ages including the largest Arcade in the area, Mini Golf, Paintball, and Go-Karts for kids, teens, and a full speed adult track. They also offer party rooms for special events and a "Kiddy Land" area for younger children to play while the older siblings take on bigger things like the Go-Karts or Arcade.
With over 20 years as a marketing director for Coca Cola, McCumber has firm grasp on advertising and the need to keep up with current technology trends. So he decided to look into an LED Message Center to help advertise directly to potential customers. "I've got 34,000 cars a day going on Hwy 80 in front of me [and] I've got 63,000 cars a day going on I-95" he said "So I figured... if I had a digital sign to catch all those [cars] going by every day it would boost our overall advertising". After researching suppliers online he found ADvantage LED Signs, a Houston-TX based company powered by Vantage LED, based out of Corona, CA. McCumber was impressed with the attention and care he received during the sales process and the sign was purchased and installed in Dec. 2011.
But all was not well. "There were problems with the sign from the beginning" relates McCumber. After they were unable to permanently fix the ongoing issues, they confirmed in January that the root cause was larger than anticipated: " [They] sent someone on-site to meet us...and determined there were some defects that could not be repaired" relates McCumber "there was also some concern that the electrical was not correct". The sign required (2) electrical circuits providing 120volt each, but the original electrician only provided (1) circuit. This forced the sign to run considerably under powered, causing electrical damage to the entire sign.
This presented a warranty conflict and many sign manufacturers in these situations tend to step away from the issue and try to avoid any warranty work; fortunately Vantage LED isn't a typical manufacturer. They took the issues seriously and didn't shy away from the product or warranty: "The president and CEO [Chris Ma] contacted me directly [and] we talked through the whole case" said McCumber. After getting all the facts, not only did they offer to replace the sign but also fast tracked production, paid for shipping, and sent a dedicated technician to supervise the installation.
The sign shipped in early March for re-installation, taking only about 5 weeks for production. "I had my maintenance supervisor, the new electrician, the local sign company onsite, and [the technician] here supervising it" said McCumber. The new electrician corrected the electrical problem, and the Vantage LED technician gave his approval before re-energizing the sign and completing the replacement. "We fired the sign up and it's worked fine since." said McCumber.
That same technician still works with them directly, and although they haven't had any major issues since then, McCumber appreciates the support and effort put forth by Vantage LED and their partners to ensure his satisfaction. "I appreciate Chris (CEO), his personal involvement, and the fact that he backed up the product, replaced it and did it quickly." he said.
The new sign has been up and running for a couple of months now and McCumber loves it. "The sign is highly visible... [it] grabs your attention so much further out." he said. He was also pleased with the virtual resolution technology saying: "I like the clarity...it's much sharper than the older technology in the market".
When asked if the investment is worth the advertising benefits, McCumber looks at the cost of the sign and spreads it over a 10 year life expectancy. "If you look at it this way" he said "it is a minimal cost against [the entire] advertising budget and it's very effective". McCumber is already starting to see this effectiveness on his business: "From beginning of spring until summer, we try to drive business during the mid-week" he said "We have early bird specials that [we] advertise exclusively on the sign". McCumber reported a measurable increase in business during the early weekday hours. "The sign has directly helped us with that." he said. McCumber is very pleased with his purchase, and looks forward to continuing to promote all the great activities Fun Zone has to offer "I'm really satisfied, its working well" he said.
An LED sign is a large initial investment for most businesses, and when something goes wrong it's important to have a manufacturer who doesn't back away from warranty work, even when the causes are not always clear. Advances in communication technology, like the internet and social media, are driving the need to bring small town business values back to the big town corporate world. It's good to know there are companies out there like Vantage LED who understand this and are committed to customer service backed by real action.