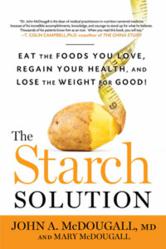 Los Angeles, CA (PRWEB) July 06, 2012
From Atkins to Dukan, fear of the almighty carb has taken over the diet industry for the past few decades. But the truth is carbohydrates are not the enemy. John A. McDougall, MD, his kitchen-savvy wife, Mary, prove that a starch-rich diet promotes weight loss, prevents a variety of ills, and even cure common diseases. The Starch Solution is based on a simple swap: carbohydrates rather than proteins and fats.
Fad diets come and go, but Dr. McDougall's expertise has helped thousands of people to slim down and to regain their health—many patient stories are in the book, including people who have lost more than 125 pounds in mere months, as well as patients who have conquered life-threatening illnesses such as type-2 diabetes, arthritis, and heart disease.
This book echoes the message put forth in the feature documentary Got The Facts on Milk? that rips the lid off the myth that milk does a body good. McDougall who is heavily featured in the film, uses his hard researched expertise to explain the dangers, risks and effects dairy has on the body.
John A. McDougall, MD has co-authored many best sellers with his wife Mary and runs the McDougall Live-In program in Santa Rosa, California.
Got the facts on Milk? (also known as "The Milk Documentary") is an award winning feature documentary that dares to question the conventional wisdom of milk and dairy products. Addressing myth, truth and all in-between, the film is a humorous yet shocking exposition that provokes serious thought about this everyday staple.