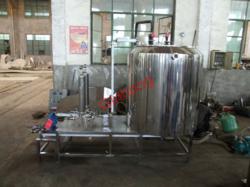 Jinhu, Jiangsu Province (PRWEB) July 01, 2012
Chinese company Ginhong manufactures and distributes a wide variety of lab mixers to various locations across the globe. The company is pleased to include the perfume mixer in their growing line of products.
The XS perfume mixer is one of the most popular laboratory mixers that Ginhong carries. The company specifically designed and manufactured the laboratory mixer for industries which manufacture perfume, deodorant, cologne, cosmetics and toilet water. The lab mixers contain a perfume mixing tank, chilling system, diaphragm pump, filtration system and an electrical control panel all in one handy mixing unit. It also is specially designed with a single-jacketed, insulated tank which contains a spiral evaporating coil.
The China based company has an experienced team which does their own research. They design, manufacture, and engineer their line of products. They specifically designed the perfume mixer so that there are no mechanical or magnetic agitators on the lab mixers. It simply mixes by circulation. They also wanted their customers to have the convenience of being able to complete the entire process of mixing, freezing, filtering, purifying and transferring in one single unit. It is designed to mix perfumes and colognes. The lab mixer also has a control panel which operates by push buttons so that it is simple to use.
Ginhong has a wide variety of other laboratory mixers as well. These can be viewed on the company's website http://www.ginhong.com/. Customers are encouraged to come in to the facility and view a demonstration of what these mixers are capable of producing.
About Ginhong
Ginhong is a China-based company which services customers from around the world. It was founded and located in Jinhu, Jiangsu Province. It did not take long until the company outgrew the small facility and had to relocate. The facility is home to an expert team of engineers who design, engineer and manufacture a wide variety of machinery. Their product line includes multi-shaft mixers, mixer machines, high shear blenders and emulsifying mixers. These are used to make a wide variety of products for companies which produce cosmetic, pharmaceutical, chemical and food products.