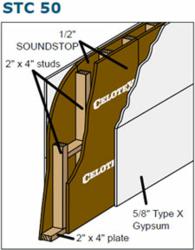 Hampshire, IL (PRWEB) July 18, 2012
BLUE RIDGE FIBERBOARD, a leader in the construction industry with roofing, sheathing and soundproofing products, offers SOUNDSTOP, a high-quality fiberboard that deadens sound transfer from room to room.
An eco-friendly and cost-effective option, SOUNDSTOP fiberboard suits soundproofing and sound insulation needs and can be used for effective application on walls, ceilings, and floors. SOUNDSTOP meets national codes and building standards and is ideal for homes and commercial buildings where noise transmission from room to room needs to be eliminated.
More Info: http://www.blueridgefiberboard.com/pages/soundstop.php
SOUNDSTOP allows for a continuous sound barrier across the entire wall blocking sound transfer though studs and the wall cavity. This provides superior performance to intermittent acoustical batt insulation design. The continuous barrier is the same concept utilized in laminated gypsum products; however, a system utilizing SOUNDSTOP instead can deliver great STC results at a fraction of the cost. Stopping the movement of the sound or shock vibrations to the other side, SOUNDSTOP can block out heavy traffic, blaring horns, airports, and other exterior noises.
"Not only is SoundStop easy to afford, but it offers great value and resale value for single and multi-family homeowners as well as commercial property owners," said Mike Taylor, director of sales and marketing at BLUE RIDGE FIBERBOARD.
SOUNDSTOP is made from organic materials including hardwood fibers and can be installed on both existing and new surfaces by placing the fiberboard on both sides of standard wall partition.
In addition, SOUNDSTOP is now UL certified for the 1-hour fire rating in a load bearing wall system when installed behind drywall.
Company Info:
BLUE RIDGE FIBERBOARD is the leading manufacturer of insulation sheathing, sound deadening and roofing fiberboard for the residential and commercial construction industry.
BLUE RIDGE FIBERBOARD has the largest available selection of fiberboard products, serving manufacturers of bulletin boards, dry mark and magnetic boards, office partitions, laminated furniture and packaging.
In addition to being nationally available, BLUE RIDGE FIBERBOARD fiberboard products are earth-friendly, contributing toward the vast criteria set for green building. Blue Ridge Fiberboard products are manufactured using wood fibers using an environmentally friendly process.
As members of the U. S. Green Building Council and a Green Building Initiative Supporter, BLUE RIDGE FIBERBOARD is helping to build a greener future with products not only designed for high performance and quality but with the needs of the environment as a primary focus.
BLUE RIDGE FIBERBOARD also boasts an excellent level of customer service, with the ability to track orders, check invoices and monitor invoice status via phone.
BLUE RIDGE FIBERBOARD is owned by WR Meadows and is headquartered in the Chicago suburb of Hampshire, IL. With manufacturing facilities located in Lisbon Falls, ME and Danville, VA.