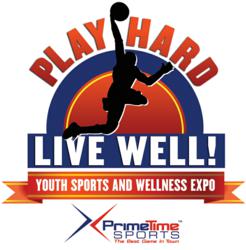 Frisco, TX (PRWEB) July 05, 2012
PrimeTime Sports is thrilled to announce that Basketball Hall of Famer Nancy Lieberman will be the featured speaker at the third annual Play Hard, Live Well! Expo which kicks off our 2012 National Basketball Championship. During her appearance (Wednesday, July 25 from 5:00 – 5:30pm.), Ms. Lieberman will be discussing her experiences in the basketball world, and the skills she believes are key to success both on and off the court.
In addition to her accomplishments as a two-time Olympian, three-time All-American and more - Nancy Lieberman added a new piece of history to her already illustrious career when the Texas Legends hired Nancy to lead the NBA Development League's newest team. Lieberman, widely considered one of the most influential figures in women's basketball history, will become the first female head coach of an NBA or NBA Development League Team. Ms Lieberman began coaching the Texas Legends (Dallas Mavericks affiliate) in November, and guided them to the playoffs in their inaugural season.
Also appearing at the 2012 Play Hard, Live Well! Expo are the inspirational players from the AMP1 Basketball League. AMP1 is the only organized team of amputees playing stand-up (versus wheelchair) basketball in the country. AMP1 players will participate in skills demonstrations and Q&A sessions for the attendees.
"AMP 1 is extremely excited to be a part of 2012 Play Hard Live Well Expo!" said Scott Odom, AMP 1 founder. "For us to be given the opportunity to spread our message of overcoming adversity and never giving up on your dreams and goals, means so much to us individually. And to share our message to tons of basketball youths striving to be the best athlete they can makes it that much more special. We hope to inspire, motivate, and leave a positive impression on all who are at the expo and can take away something from us playing the game of basketball that we love and are so passionate about."
This year, more than 10,000 players, coaches and friends will attend the Play Hard, Live Well! Expo in Frisco. The Expo offers entertainment, activities for kids of all ages, more than 40 exhibits and opportunities to win great prizes – like an XBOX with Kinect!
The PrimeTime Sports National Basketball Championship is the largest and fastest-growing single-venue youth championship in the nation. Almost 750 teams are expected to compete this year in the North Texas area, with over 25,000 coaches, players, parents and fans in attendance.
"We are thrilled that Nancy Lieberman will attend the Play Hard, Live Well! Expo again this year," said David Stephens, CEO of PrimeTime Sports. "Nancy's message echoes PrimeTime Sports' to the development of the whole player: not just sports skills but also life skills. We are equally thrilled that AMP1 will be joining us this year. Their drive, perseverance, and love of the game are all qualities that matter on and off the court."
Play Hard Live Well! Expo
10:00 a.m. to 6:00 p.m., Wednesday, July 25, 2012
Embassy Suites Dallas-Frisco Hotel: 7600 John Q. Hammons Drive, Frisco, TX 75034
Basketball Hall of Famer Nancy Lieberman Keynote
5:00 - 6:00 p.m., Embassy Suites Dallas-Frisco Hotel, main exhibit hall stage
AMP1 Basketball Demonstrations
Noon, 2:00 and 4:00 p.m.*, Embassy Suites Dallas-Frisco Hotel, main exhibit hall half-court
5 on 5 Scrimmage: Frisco Fieldhouse, July 26, time TBD
*times subject to change, please check the PlayHard, Live Well! Web site for the most up-to-date scheduling information
----------
About PrimeTime Sports:
PrimeTime Sports is committed to competitive excellence. We offer youth tournaments and leagues, as well as other events, activities, and products. PrimeTime Sports currently offers basketball, soccer and 7on7 football. Additional sports will be added in the future.
Following this commitment, PrimeTime Sports has emerged as the leading provider of youth basketball in Texas and one of the fastest growing sports-event management firms in the country.
The formula for PrimeTime Sports' success has been simple, offer teams great value and provide a level of organization and professionalism unmatched in the youth sports market. This commitment and a talented PrimeTime Sports team dedicated to serving you and your team have made PrimeTime Sports, The Best Game In Town. http://www.PrimeTimeSportz.com
About Nancy Lieberman
Nancy, "Lady Magic," Lieberman is a true pioneer in women's sports. Her extensive resume includes: WNBA player, coach, general manager, broadcaster for ABC, NBC and ESPN, motivational speaker, author and the first female coach of a men's team under the NBA umbrella. Lieberman was also the first woman to play in a men's professional league. Currently, she serves as the assistant general manager for the Texas Legends, NBA Development League team and official minor league affiliate of the Dallas Mavericks.
Nancy Lieberman is a Basketball Hall of Famer, two-time Olympian, three-time All American, two-time collegiate national champion and a two-time National Player of the Year at Old Dominion University.
Rising through the rank of professional sports, Lieberman made significant contributions to basketball. Her distinguished career is one of monumental strength and motivation. In pursuit of becoming the greatest women's basketball player, she refused to accept anything less than the best. Her devotion to the sport and passion for the advancement of women athletes are a source of inspiration. http://www.nancylieberman.com
About AMP1 Basketball
Founded by Scott Odom in 2011, AMP1 is comprised of amputee athletes who connected via YouTube while seeking opportunities to play competitive stand-up basketball, AMP1 demonstrates that all you need is courage, motivation and heart to follow your dreams. With the help of high-tech prosthetics, the team has overcome lower limb amputations caused traumatic accidents, birth defects and cancer to go on and play able-bodied, non-amputee teams– and often win!
The team launched their inaugural national tour in 2011 with the help of sponsors Freedom Innovations and the P.L.A.Y. Foundation.  Stops in Dallas, New York, Washington D.C., Kansas City, Los Angeles, Detroit and Bethesda have garnered sold out games and a growing fan base.  AMP 1 has a mission to grow the team into an organized, national league. http://www.amp1basketball.com