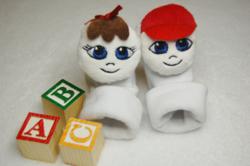 Everyday is a play day!
Tallahassee, Florida (PRWEB) July 05, 2012
Baby Sock Pals introduces innovative baby products that can be instrumental in the early developmental stages of babies. Research shows babies love to study faces, so Baby Sock Pals has created 3D characters to capture the attention of babies encouraging visual tracking, hand-eye coordination, and interactive play skills. These playful characters are embroidered with big bright eyes, friendly smiles, and adorned with colorful hats and cute hair bows. At Baby Sock Pals, the 3D characters are strategically positioned on the baby socks to make it easier for babies to see and interact with their fun first friends.
Baby Sock Pals was born in a grandmother's sewing room from intuition and a desire to make a fun and simple product for her granddaughter. While keeping her granddaughter during the early developmental stages, Martha Randell, owner and designer of Baby Sock Pals, observed her granddaughter gazing at her socks for extended periods of time. Wanting to make the socks more interesting, Martha designed 3D character socks to replace the plain socks. Martha's granddaughter was fascinated by the faces on the socks!
Launched in June 2012, Baby Sock Pals is a Tallahassee, Florida based company specializing in plush 3D character baby products. Baby Sock Pals strives to continually design products that are fun, unique, and affordable for new parents. Year round play is priority at Baby Sock Pals and designs are provided for everyday wear and the holidays. Baby Sock Pals offers that one of a kind item that can enhance a baby's early developmental skills.
Visit http://www.babysockpals.com for more information. .
Baby Sock Pals products will be available for purchase on-line and at select baby boutiques throughout the country. Boutique owners interested in carrying the Baby Sock Pals line should contact Martha Randell at 850.270.7398, or email: inquire(at)babysockpals(dot)com for wholesale detail.