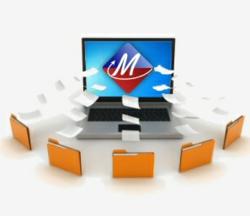 Practices must have a steady flow of income to meet wages, pay monthly bills and provide state-of-the-art treatments.
Denville, NJ (PRWEB) July 03, 2012
"The future of electronic health records is evolving and will continue to do so," said Chhoda. "They integrate easily into existing office systems, enhance patient care, provide valuable marketing tools and offer the means to expedite reimbursements."
Chhoda offered the following list of advantages of an EMR for physical therapists:

Public health – EMR systems provide physical therapists with health information and data that can be used to track injuries and treatments for public safety. Data can be broken down to ascertain the most common types of injuries by age group, location and other therapist identified parameters. The information can be utilized to create better treatments to benefit the public good.
Clinical decision making – Chhoda noted that physical therapy management is essential, but it's a task at which many therapists need some work. EMRs offer a ready-made record that therapists can use to schedule staff where their skills will best serve the practice. EMR statistics will easily show practice owners where the clinic's strengths and weaknesses lie, allowing therapists to make better informed decisions on hiring and expansion.
Patient-centered care – Improved patient care is an on-going goal and occupational therapy software offers immediate access to the patient's entire health care record at a glance. Physical therapists can quickly evaluate treatments a patient has undergone and their effectiveness for better health care management, along with coordination of services with other medical professionals.
Electronic billing – Physical therapy software allows practice owners to manage billing, coding and submit reimbursement requests electronically. Practices must have a steady flow of income to meet wages, pay monthly bills and provide state-of-the-art treatments. Chhoda noted that EMRs increase the rate of recovery on reimbursements, can be utilized to compare providers, and obtain the best rate of payment for a more profitable practice.
Information exchange – EMRs allow clinicians and other health care professionals to coordinate treatments, and share information at local, state and national levels when needed to better manage expenses, treatments and payments.
Chhoda's new list of advantages for implementing an electronic medical record in physical therapy practices offers therapists an inside look at how they can personally benefit. Enhanced patient care, better financial flow and serving the public good are all ways in which physical therapy documentation software can aid therapists in their profession.
Chhoda's office can be reached by phone at 201-535-4475. For more information, visit the website at http://www.emrnews.com.
ABOUT NITIN CHHODA
Nitin Chhoda PT, DPT is a licensed physical therapist, a certified strength and conditioning specialist and an entrepreneur. He is the author of "Physical Therapy Marketing For The New Economy" and "Marketing for Physical Therapy Clinics" and is a prolific speaker, writer and creator of products and systems to streamline medical billing and coding, electronic medical records, health care practice management and marketing to increase referrals. He has been featured in numerous industry magazines, major radio and broadcast media, and is the founder of Referral Ignition training systems and the annual Private Practice Summit. Chhoda speaks extensively throughout the U.S., Canada and Asia. He is also the creator of the Therapy Newsletter and Clinical Contact, both web-based services to help private practices improve communication with patients, delivery better quality of care and boost patient retention.
# # #