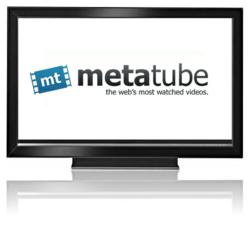 "We are very excited to launch the first ever Spanish Video TV Application with adRise"said Ramon Toledo, Busca Corp's Founder, President and CEO.
La Jolla, CA (PRWEB) July 18, 2012
Busca Corp. is set to take the world of Smart TV by storm with Metatube.  In collaboration with adRise, the connected TV app lets viewers access video content online through many video on demand platforms. Metatube features videos in a range of categories, including entertainment, music, news, politics, and humor. Available currently through Google TV and Roku, the connected TV app will launch throughout Latin America and Europe by the end of 2012.
"We are very excited to launch the first ever Spanish Video TV Application with adRise. We believe there is a growing market, and this Application will be available in English as well, which will give our users another option for viewing our content," said Ramon Toledo, Busca Corp's Founder, President and CEO. "Internet connectivity through high-end TV sets is gaining momentum and surely it will be the norm in the upcoming years. By 2016 we will see connected TV sets in 70 percent of U.S Households."
Market trends are clear. Some estimates suggest that Smart TV market penetration will reach nearly 20 percent by the end of the year. And worldwide, over 25 percent of new televisions shipped in the first quarter of 2012 had some Internet features, while one-fifth of the new sets were Smart TVs. IMS Research forecasts rapid growth, predicting smart TV shipments to reach 70 percent of new TV shipments by 2016. In the United States, Internet use has grown steadily among Hispanics, from 21 percent in 2007 to nearly 30 percent in 2012. Beyond the United States, Latin America represents an enormous growth opportunity for connected TV apps. Internet usage market penetration is much higher throughout Latin America than the rest of the world – nearly 40 percent of Latin Americans use the Internet, while that figure is only 32 percent throughout the rest of the world.
 
Thomas Ahn Hicks, adRise's Head of Business Development says, "Metatube approached adRise to quickly get Connected TV distribution across the major TV platforms. We provided the app development and technical services for free (which we do for select content owners) and we leveraged our deep relationships with the TV OEMs to get Metatube's apps live quickly. Though we typically work with long form content, Metatube is a great partner because its videos are popular, which makes it easy for adRise to monetize with video ads on behalf of Metatube and adRise. We're expect to get Metatube on all the major Internet Connected TV devices in 2012."
 
About Busa Corp.
Busca Corp is an Information Technology Company that specializes in developing state of the art online sites and platforms. They have created an online entertainment network that provides content to different segments including; video gamers and U.S Hispanics. Busca Corp. are uniquely able to create unique scripts tailored to user needs. They build everything in-house so that they provide users exactly what they want and need.
 
About adRise
adRise develops for free branded apps for all of the major Connected TV platforms and generates revenue from advertising and subscription revenue. We support Connected TV platforms such as Samsung, Roku, Western Digital, Xbox, PS3, Google and Yahoo TV, iPad, and Android tablets. Our ad SDKs power the ad delivery, targeting and realtime analytics and are the standard that most of the advertising world uses to deliver interactive brand advertising to Connected TVs. Brand advertisers access viewers by leveraging robust interactivity, targeting, and analytics never before available for TV audiences. Premium content owners monetize their apps by utilizing our real-time bidding exchange to get the highest payment for each ad spot.  Contact us at support(at)adrise(dot)com for more information.