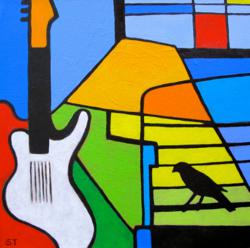 "He's a great songwriter... He's just really good at it." - Don Henley (Eagles)
SAN DIEGO, CA (PRWEB) July 05, 2012
Multi-Diamond Awarded songwriter Jack Tempchin will release a live DVD / CD combination package titled, Jack Tempchin Live At Tales From the Tavern, on September 25, 2012.
Jack Tempchin Live At Tales From the Tavern will be the first DVD released by the performing songwriter. Shot by famed photographer Henry Diltz, the concert footage features solo acoustic versions of Tempchin performing several of his hits turned platinum by others including: "Peaceful Easy Feeling" and "Already Gone" (Eagles), "You Belong To The City" and "The One You Love" (Glenn Frey), "Slow Dancing (Swayin To The Music)" (Johnny Rivers), plus new songs handpicked from his JackSongADay.com. Witty anecdotes and the fascinating stories behind the songs provide a glimpse into the mind of a single songwriter who has contributed greatly to the soundtrack of an entire generation.
ABOUT JACK TEMPCHIN
Jack Tempchin has written or co-written five multi-platinum hits with or for The Eagles. He solely penned "Peaceful Easy Feeling" and wrote "Already Gone" with Robb Strandlund. Both were included on EAGLES: THEIR GREATEST HITS 1971-1975, awarded by the RIAA as the 'Best-Selling U.S. Album of the 20th Century'. A Jack Tempchin / Glenn Frey collaboration, "The Girl From Yesterday" was featured on the Eagles highly anticipated HELL FREEZES OVER reunion CD. For the Eagles recent LONG ROAD OUT OF EDEN double disc set, Jack Tempchin co-wrote two songs, "Somebody" with John Brannen and "It's Your World Now" with Glenn Frey.
In the 1980s, Tempchin co-wrote a string of Top 100 radio hits with Glenn Frey including notable MTV hits: "You Belong To The City" and "Smugglers Blues" both featured in the popular Miami Vice TV series. Their collaboration on "Part Of You, Part of Me", became the theme song for Academy award winning movie THELMA & LOUISE. Other film co-writes included "The Lonely Guy" and "Party Town" featured in comedic Steve Martin films. And in an iconic movie moment, Jeff Bridges as The Dude was famously tossed from a taxi in cult favorite THE BIG LEBOWSKI for complaining about Jack's song "Peaceful Easy Feeling", as sung by the Eagles on the cab radio.
Jack Tempchin has also had songs recorded and performed by George Jones, Emmylou Harris, Glen Campbell, Chris Hillman, Patty Loveless, Trisha Yearwood, Tanya Tucker, Richie Havens, New Riders Of The Purple Sage, The Paladins, Kate Wolf, Tom Rush, Dwight Yoakam and Jim James of My Morning Jacket, among others. He's been sampled by multi-platinum rap stars Coolio and Jay-Z. Look for the forthcoming DVD / CD combo to feature several of his most famous hits.
JACK TEMPCHIN LIVE AT TALES FROM THE TAVERN CD / DVD Track Listing
1. The One You Love
2. Bender
3. Loneliest Piano In Town
4. Jazzbird
5. Already Gone
6. Lovers Like Us
7. Jesus and Mohammed
8. Amy
9. You Belong To The City
10. Slow Dancing
11. Peaceful Easy Feeling
"He's a great songwriter. He paints pictures with simple words. He's just really good at it."
-DON HENLEY
"Sure-footed songwriting craft... Through and through, he's a big deal." -VAN DYKE PARKS
"Jacks body of work is iconic. His contribution as a world class muzoid is undeniable and I remain a lifelong fan." - PAUL WILLIAMS
"The first real songwriter I really saw and really got excited about was Jack Tempchin." - TOM WAITS
###